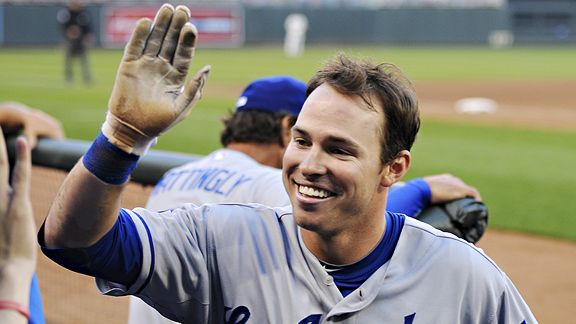 Christian Petersen/Getty Images
Trent Oeltjen
One of my wife's favorite expressions is "That's insanity sauce" – tonight, the Dodgers were insanity sauce.
For the first time in their history in Los Angeles, all nine Dodger starters had a hit, a run and an RBI in the team's biggest shutout victory since 1969, 15-0 over the Twins.
The boxscore is suitable for framing, starting with four hits for each starting outfielder (another first). Tony Gwynn Jr., Matt Kemp and Trent Oeltjen, who came within 80 feet of a cycle-completing double in the ninth inning before retreating to first. The hit totals for Gwynn and Oeltjen were career highs, while Kemp hit his National League-leading 22nd home run, measured at 444 feet to dead center. Los Angeles scored in seven of nine innings.
Casey Blake added two singles and a homer, and Andre Ethier, James Loney, Juan Uribe and A.J. Ellis each had two singles for the Dodgers, who finished with a Los Angeles Dodgers record-tying 25 hits, at least two by every starter.
On the mound, Chad Billingsley pitched six shutout innings (aided by Gwynn and Dee Gordon combining to throw a runner out at the plate), followed by one each by Blake Hawksworth, Hong-Chih Kuo and Scott Elbert. The relievers combined for seven strikeouts and didn't allow a baserunner save for Gordon's fielding error.
Savor it.
* * *
The Platoon Advantage wondered what a contemporary MLB expansion draft might look like, so they enlisted help from the multitudes of team bloggers, including myself, to stage one. The Dodgers lost Aaron Miller and Ted Lilly, who was the highest-salaried player in baseball who was taken in the mock draft (in the second round). The draft was over before a third Dodger was taken.
* * *
Jonathan Broxton had a new MRI for his right elbow, reports Tony Jackson of ESPNLosAngeles.com.