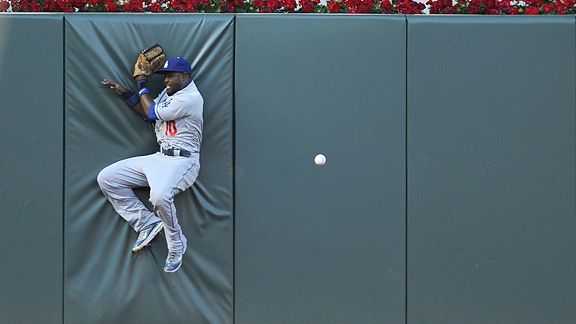 Hannah Foslien/Getty Images
Tony Gwynn couldn't catch Alexi Casilla's drive but threw him out trying to advance to third base for his seventh outfield assist of the season.Ted Lilly will get his act together before Major League Vaudeville bids him adieu, maybe sometime soon, but he's gettin' tomatoes thrown at him right now.
Lilly allowed six runs in 4 2/3 innings (81 pitches), meaning that over his past three starts, Lilly has allowed 17 earned runs in 14 2/3 innings. He had at least been striking out batters, but tonight the player who is fifth in the National League in strikeout/walk ratio didn't have it, striking out none. (Trivia: Most pitches by a Dodger pitcher this century without a strikeout ... Carlos Perez, 101 on May 3, 2000.)
Lilly put the Dodgers in a 4-1 hole, but Los Angeles came back for three in the top of the fifth inning in a rally started by Aaron Miles' first major-league home run since September 16, 2008 and ending with Andre Ethier's two-run single off Twins lefty Brian Duensing. Lilly then surrendered the lead in the bottom of the frame on a two-run homer by Luke Hughes, the 16th homer Lilly has allowed in 17 starts.
The Dodgers mounted another rally in the seventh inning, but came up scoreless in what amounted to a reversal of fortune from Sunday, when they rode two close calls to a walkoff victory over the Angels. First, Tony Gwynn Jr. was ruled out on what appeared to be an infield single that would have put two runners on with one out. Then, Jamey Carroll was thrown out on a close play trying to score on Casey Blake's single.
The Dodgers put two baserunners on in the ninth inning, but Casey Blake grounded out and that was the ballgame, leaving only this question: On what planet is it a good idea for Dioner Navarro to pinch-hit for Carroll, as occurred with one out in the final inning?