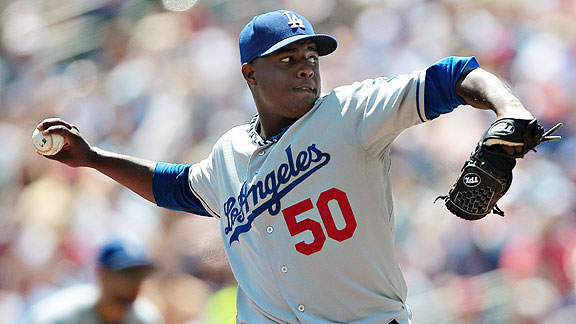 Jesse Johnson/US Presswire
Rubby De La Rosa went a career-high seven innings.Well, you knew this was coming.
It took less than two days for the Dodgers to go from scoring 15 runs in one game to being shut out in another — a 1-0 loss at the hands of the Twins.
It was not an entirely sad day, thanks to the progress shown by Dodger rookie Rubby De La Rosa, who completed a career-high seven innings in 99 pitches, allowing six hits and two walks (one intentional) while striking out four. The low walk total was also a career-best for De La Rosa as a starter.
On his third pitch of the game, De La Rosa gave up a triple to Twins leadoff hitter Ben Revere, and Tsuyoshi Nishioka drove in Revere with a groundout. That was it for Minnesota against the Dodger rookie, but it was more than enough for Minnesota against the Dodger offense.
The Twins could have made things worse, but they went 0 for 10 with runners in scoring position.
The Dodgers' biggest missed opportunity might have been in the third inning, when Dee Gordon stole third base with one out. But Casey Blake missed a chance to push Gordon the final 90 feet by fouling out, and then Andre Ethier struck out.
In all, the Dodgers had eight baserunners, three of them in scoring position. The eight baserunners were spread across seven different innings. Twins starting pitcher Scott Baker (3.15 ERA) struck out nine and walked one in 7 1/3 innings.
Fans in Los Angeles ended their lunch hours with the Dodgers alone in last place, 11 games behind National League West-leading San Francisco on the penultimate day of June, edging closer to the point where even general manager Ned Colletti might start to concede the season.
Most games behind in National League West by Dodgers after 82 games
*pending outcome of today's remaining games