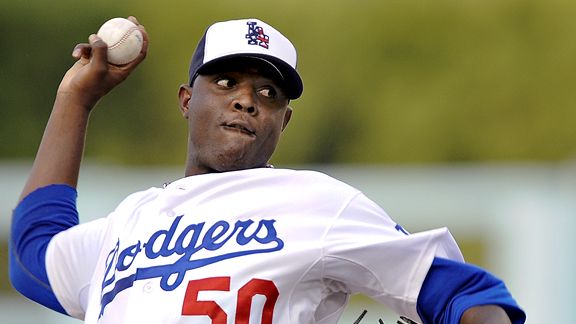 Gus Ruelas/AP
Rubby De La Rosa allowed three runs on five hits – all after the sixth inning began.Man, I was on edge tonight - preparing to head out to the local park to see fireworks while Rubby De La Rosa was working on a no-hitter, which he took into the sixth inning while averaging barely 10 pitches per inning. What might I miss?
But in what became a veritable repeat of Sunday's game, a dominant performance by a Dodger starting pitcher cracked, and the offense wasn't there to make up the difference, with the Dodgers losing to the Mets, 5-2.
Los Angeles finds itself in a position where it must start to worry about how far it is falling out of fourth place, let alone first. San Diego's victory over San Francisco kept the Dodgers 11 games out in the National League West but dropped them to two games behind the fourth-place Padres.
* * *
Thanks to a peculiar combination of good starting pitching and bad most everything else, the Dodgers continue to have very few save opportunities.
The time a relief pitcher entered a game with a chance to earn a save was when Blake Hawksworth technically had the opportunity to pitch the final three innings of the Dodgers' 15-0 victory in Minnesota on June 27. The last Dodger save opportunity that didn't depend on the three-inning save rule was when Javy Guerra closed out the Dodgers' 1-0 victory over Houston on June 19, more than two weeks ago.
Jonathan Broxton picked up his seventh save May 2; he hasn't pitched for the Dodgers since May 3. The Dodgers have eight saves in 56 games since Broxton's last save. Scott Elbert and Guerra have the Dodgers' only two saves since May 25, a span of 36 games.
Officially, the Dodgers have been successful on 16 of 21 save opportunities in 86 games this season. Broxton was 7 for 8, Vicente Padilla 3 for 3, Guerra is 2 for 2, and the rest of the staff 4 for 8. For comparison, Broxton had 19 saves by himself before the All-Star break last season, which I suppose isn't that big a discrepancy from what would have happened this year if he had stayed healthy.