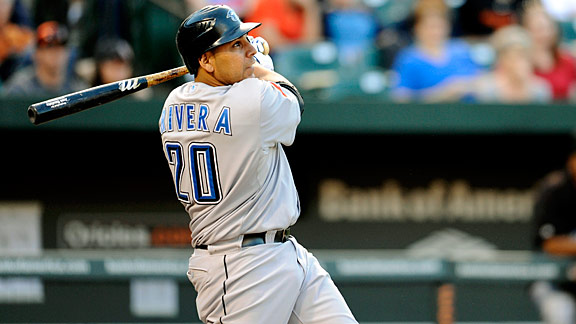 Mark Goldman/Icon SMI
Juan Rivera has a .700 OPS in 730 plate appearances over this season and last, but he's been better against lefties.In a less-than-inspirational exchange, the Dodgers have acquired outfielder Juan Rivera from Toronto, plus cash, in exchange for a player to be named later or cash (presumably if the organizations can't agree on the player).
In a separate but related move, the Dodgers designated Marcus Thames for assignment. Here's more from my news story:
Rivera, who turned 33 last week, was batting .243 with six homers and 28 RBIs in 275 plate appearances this season. He had a .305 on-base percentage and .360 slugging percentage for the Blue Jays after coming to Toronto from the Los Angeles Angels in the January trade that sent Vernon Wells west. The year before, Rivera had a .312 OBP and .409 slugging for the Angels in 455 plate appearances.

He is in the final year of a three-year, $12.75 million deal, making $5.25 million this year.

The 34-year-old Thames, who signed a one-year, $1 million deal with the Dodgers the same week as Rivera went to Toronto, was hitting .197 with two homers and seven RBIs with the Dodgers over 70 plate appearances in an injury-marred season that showed him ill-suited to play in the field. He had a .243 OBP and .333 slugging after posting .350/.491 numbers with the New York Yankees in 2010, playing the majority of the time as a designated hitter.

Rivera will join a left-field mix with the struggling Dodgers that includes Tony Gwynn Jr., Trent Oeltjen and Eugenio Velez, with Jerry Sands and Trayvon Robinson in the minors.

Dodger left fielders have two home runs and a .618 OPS this season, the worst in the National League.
There will be a lot of panic in some parts about whom the player to be named later might be, though I don't have much fear on this front that it will be a significant prospect. And the cash from Toronto should cover a good part of what Rivera is owed this season.
So, this seems mostly to be a concession that Thames can't hack it as a National League, non-designated hitter, whereas Rivera might fill the Thames' role and contribute in the field a little.
At the same time, Rivera is pretty clearly a player in decline offensively — much more than Thames was going into this season — so I get no joy out of seeing him taking up space on the roster on the odd chance that he'll bash a homer against a lefty once in a while. (Rivera has two home runs and a .909 OPS in 65 plate appearances against lefties this season.)
Of course, the Dodgers are still carrying Eugenio Velez, but that's another story.
Clearly, Ned Colletti hasn't quite given up on the divisional race, though this hardly means he's gone all in.