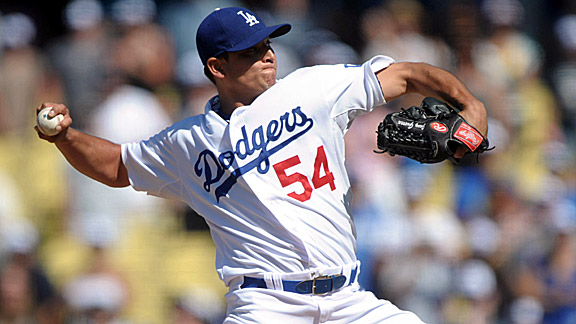 Kirby Lee/Image of Sport-US Presswire
Javy Guerra
Update on Brian Stow suspects here.
Rafael Furcal, SS

Aaron Miles, 3B

Andre Ethier, RF

Matt Kemp, CF

Juan Rivera, LF

James Loney, 1B

Dioner Navarro, C

Eugenio Velez, 2B

Rubby De La Rosa, P
All praise is due to Dodger reliever Javy Guerra, who had never pitched above Double-A before 2011 but has posted a standout rookie season.
The 25-year-old has a 1.99 ERA and 18 strikeouts in 22 2/3 innings against 31 baserunners and has yet to blow a save opportunity. His perceived calm on the mound — perhaps marked by how he pitched out of a bases-loaded, none-out jam of his own making July 8 against San Diego — has led many to wonder if the Dodgers have found their replacement at closer for Jonathan Broxton, who surely will not be back in a Dodger uniform in 2012, if at all.
On one level, I take issue with the question itself — the goal is always simply to find the best relievers you can and not worry about their roles. Part of the beauty of what happened with Guerra this year is how he wasn't assigned the closer job, but just began pitching in the ninth inning because he happened to be the guy who was available. You shouldn't doubt, for example, that Kenley Jansen, who has been absolutely unhittable since coming off the disabled list, could close games.
But as far as whether Guerra is the real deal, I'm of two minds. He certainly showed his potential after striking out 8.8 batters per nine innings in his 65 games with Chattanooga from 2009-11. But he has also always allowed a fair number of baserunners: his career WHIP in Double-A is nearly 1.5. That's not all that good. Jansen's WHIP at Chattanooga, by comparison, was below 1.1. It's reasonable to suggest that Guerra might be pitching over his head.
People are talking about Guerra's precocious performance, but we've done that about many other young relievers who made strong debuts only to falter a year later. People are talking about Guerra's fearlessness and attack mentality on the mound ... just like they did for John Ely. Seriously, there were experts that not only thought Ely was the real deal a year ago, they were crediting him for showing other Dodgers how to pitch. A year later, he's a pitcher of last resort.
Guerra is on a particular roll of late, having retired his past 10 batters over four appearances - striking out five and earning saves in each game. It's wonderful. I'm just not ready to declare him a natural closer, partly because I'm skeptical about the use of such a definition, partly because we still haven't seen enough of him to know how effective he'll be over the long haul.
We shouldn't be surprised if Guerra hits a rough patch. We also shouldn't be alarmed. The guy hasn't even faced 100 batters yet in his career - I'd recommend being patiently optimistic. I'm just saying, it really is still early.
In any case, the Dodgers do appear to have the potential for a nice, mostly home-grown bullpen brewing for 2012, with Guerra, Jansen, Scott Elbert and minor-leaguers including Josh Lindblom, Steven Ames, Shawn Tolleson and Cole St. Clair in the mix. That's seven names right there before you even talk about veteran holdovers like Matt Guerrier, Blake Hawksworth and Mike MacDougal. Broxton and Hong-Chih Kuo might be gone next season because of performance, salary and injury concerns, in much the same manner that Russell Martin departed last winter, but at least in this area, Los Angeles looks ready to move on without them.
Update: More on Guerra here from Jason Grey of ESPN.com.