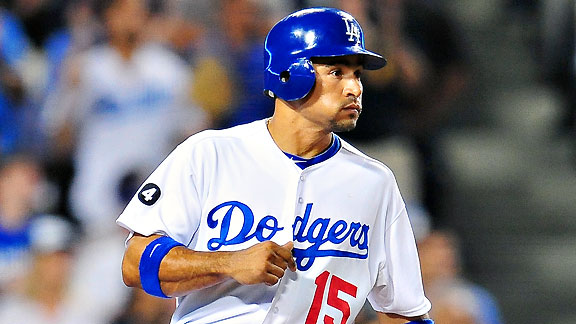 Gary A. Vasquez/US Presswire
Except for Bill Russell, Rafael Furcal reached base more than any shortstop in Los Angeles history.
Tony Gwynn Jr., LF

Casey Blake, 3B

Andre Ethier, RF

Matt Kemp, CF

Juan Rivera, 1B

Aaron Miles, 2B

Rod Barajas, C

Jamey Carroll, SS

Chad Billingsley, P
When Rafael Furcal first signed with the Dodgers, he had recently turned 28 and had averaged 152 games and 687 plate appearances over the previous four seasons, with a .342 on-base percentage, .418 slugging percentage and .794 stolen-base percentage. He wasn't spectacular offensively, but he was solid and a step up from Cesar Izturis and Alex Cora, who mainly manned the position over the previously six years.
Coming from Atlanta, Furcal was no Andruw Jones. Though his first month was below par, Furcal snapped out of it and got better as the 2006 season went on, OPSing .963 after the All-Star break and helping the Dodgers reach the playoffs. Of no small significance, he played in 159 of 162 games and started 156 of them.
Furcal missed the first nine games of the 2007 season and the last 12 as well, but in between he played in 138 out of 141. That year, he didn't have that great finishing kick (nor did the Dodgers), and finished with only a .687 OPS.
However, it wasn't really until year three that the Furcal that will linger in the minds of many Dodger fans emerged. He blasted out of the gate like never before as a Dodger, playing in each of the team's first 32 games with an MVP-caliber .448 on-base percentage and .597 slugging percentage. To put that in perspective, that's hotter than Matt Kemp this season. And then, he was sidelined until the final week of September.
The Dodgers (thanks in part to a guy named Manny Ramirez) made the playoffs despite this, and Furcal went right into the fire of the postseason. He reached base in seven of his 15 plate appearances in the Dodgers' Division Series sweep of Chicago, leading a dominant team performance that convinced numerous pundits to make Los Angeles favorites to reach the World Series.
Game 1 of the NLCS remains, for me, the most pivotal game of Rafael Furcal's Dodger career. In the sixth inning, with the Dodgers leading 2-0, Furcal (0 for 4 that night) rushed a throw and made an error to allow Shane Victorino to reach first base. The next batter, Chase Utley, homered off Derek Lowe to tie the game, and Pat Burrell sent the go-ahead run out of the park one batter later. It's not that I'm pinning responsibility for the defeat on Furcal, but that throwing error remains as much a moment of wondering "what might have been" as Cory Wade's and Jonathan Broxton's pitches in the eighth inning of Game 4 are.
Furcal came back in 2009 to, without looking at things too closely, essentially repeat his 2007 season – with the main difference being that the Dodgers had the offense to withstand his deficiencies and return to the postseason. Again, Furcal shined in the NLDS triumph and floundered in the NLCS disappointment.
For your typical player, that would have been the beginning of a steady decline, but not for the you-never-know Furcal. A year ago, here's what was written on Dodger Thoughts:
At the start of this season, I had practically given up on Rafael Furcal.

Last year was limp, and his brief fireworks in 2008 looked like the death throes of a player just before his back was hijacked by the devil. He seemed, to adapt one of the most malleable and miserable of baseball cliches, an old 32.

Maybe in an honest attempt to be objective, maybe in an attempt to be too clever, I picked Furcal as the Dodgers' hidden weak link. While everyone else was worried about the starting pitching or Manny Ramirez, I was the one who so smartly pointed out that the Dodgers had a fizzler as the backbone of their infield.

Turns out, that fizzler has been the most valuable shortstop in major league baseball -- All-Star snub be damned -- according to Fangraphs.

That Furcal has made me look so wrong is wonderful. That he has done it in a year of personal tragedy is wondrous. How did he go back to work so quickly after his father died? And how did he go back so well?

Furcal is a player of tremendous ability -- he quite possibly will leave the Dodgers at the end of 2011 as the greatest-hitting shortstop in their long history -- and, if it may still be said, somewhat maddening inconsistency. At times like these, with a .443 on-base percentage and .667 slugging percentage since June 4, he is arguably the best player in the game, punctuated by the spring in his defensive step. But even this year, Furcal has had his struggles. Thanks to more injuries and more ill production, Furcal reached base only 13 times compared with 11 strikeouts over a six-week span from April 22 through June 3. To put it in the best possible light, Furcal has an uncanny ability to remind you that he is all too human.

He's one of us. Until he's not.

Furcal will cool off again, maybe starting tonight. And one of these days, months or years, he won't heat back up again. After all, he's an old 32, right? But someday, after it's all over, I hope I remember these inspiring weeks, when Furcal not only found life worth living in a dark hour, he made it that much more rewarding for the rest of us.
Should Rafael Furcal's trade to St. Louis become official, some will look back on all the money spent on Furcal and all the games missed, not to mention his lost year of 2011, when he managed to reach base only 41 times in four months. I'll look back on Furcal as a guy who, each time he was signed, was worth taking a risk on. He was the most brilliant Dodger shortstop of my lifetime as a follower of the team. While I wish and hope for nothing but the best for Dee Gordon, his fleet and healthy feet will have some fly shoes to fill.