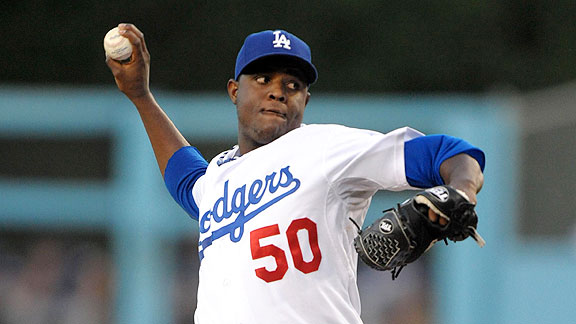 Kirby Lee/Image of Sport/US Presswire
Rubby De La Rosa struck out 60 in 60 2/3 innings in his rookie season.
Dee Gordon, SS

Casey Blake, 3B

Aaron Miles, 2B

Matt Kemp, CF

Juan Rivera, RF

James Loney, 1B

Dioner Navarro, C

Tony Gwynn Jr., LF

Hiroki Kuroda, P
The statement from the Dodgers:
Dodger right-hander Rubby De la Rosa underwent an MRI on Monday that showed a partial tear of the Ulnar Collateral Ligament (UCL). After consultation with Dr. Neal ElAttrache and Dr. James Andrews, it was decided that reconstruction (Tommy John) surgery should be performed. The date and location of the surgery is yet to be determined.
The recovery time of approximately one year, give or take, puts De La Rosa out of the Dodgers plans in any meaningful way until 2013.
Tony Jackson of ESPNLosAngeles.com has more.
* * *
In case you missed it, there was more sad and stunning news in the Bryan Stow case Monday. From Andrew Blankstein of the Times:
A key witness in the beating case of Giants fan Bryan Stow at Dodger Stadium may have died of a peanut allergy, though officials have not determined a positive cause of death.

Matthew Lee attended the Dodgers' home opener on March 31 with Stow and was cited in court papers filed Monday involving the two suspects charged in the beating.

According to law enforcement sources familiar with the case, Lee died Sunday after eating a salad that apparently contained nuts, which caused an allergic reaction. The sources said Lee had a peanut allergy.

It's unclear how this will affect the case against Stow's alleged attackers, but the sources said Lee was an important witness.

However, officials have said they have physical evidence in addition to the evidence provided by eyewitnesses to the beating.

Los Angeles police detectives said Monday they were trying to find additional Giants fans from the Bay Area who were assaulted by the suspects. ...