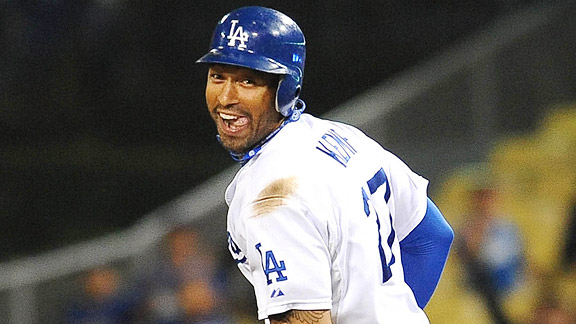 Jayne Kamin-Oncea/US Presswire
Matt Kemp has had every reason to smile in '11 -- except the biggest: contending for the playoffs.Like drivers who see a good parking space but hold out hope for a better one, even though, for crying out loud, the parking space right in front of them is absolutely all they need, the National League Most Valuable Player voters will select the Dodgers' Matt Kemp for the honor only if they can't envision an alternative.
With barely 25 percent of the 2011 regular season remaining (and if you thought "That much?" you're not alone), Kemp and his .975 OPS, 31 steals in 36 attempts, 28 home runs and exceptional advanced stats (an NL-best .351 total average, according to Baseball Prospectus) are clearly in the thick of the MVP discussion -- and he's there despite playing the majority of his games in the same pitchers' parks that some will hold against Clayton Kershaw in the NL Cy Young vote.
But by playing for a team that is on the express track to a losing season, Kemp will battle those who feel that the MVP must come from a more close-to-the-action team rather than one on the outer reaches of the mall.
Personally, long before I thought a Dodger would be in this kind of discussion, I've been in favor of giving the award to the best player regardless of the team's record. Your value isn't diminished by your surroundings, even if your surroundings are grim. I mean hey, would you dock Mother Teresa any Most Valuable Saint points because she was surrounded by also-rans? Heck no.
But the reality of a vote that hasn't seen an NL MVP from a losing team since Andre Dawson in 1987 is fairly easy to suss.
As recently as 2009, Adrian Gonzalez of the San Diego Padres had a .407 on-base percentage, a .551 slugging percentage, 40 home runs and 99 RBI playing in a ballpark that is as smothering to batters as any in the NL. In wins above replacement, Gonzalez ranked fourth in the NL according to Baseball-Reference.com's formula, sixth according to FanGraphs. In total average, Gonzalez was third.
Now, you'll notice that Gonzalez wasn't first in these categories, even the park-adjusted ones, so it's not as if he had the right to feel cheated by not winning the MVP, which went unanimously to the dominant Albert Pujols of St. Louis. But somehow, Gonzalez finished not third, not sixth, but 12th, behind players who had inferior seasons at the plate ... including Matt Kemp of the NL West-champion Los Angeles Dodgers, with an .842 OPS that was .116 below Gonzalez's.
Kemp got credit for playing a more valuable defensive position and was viewed at the time as playing it well -- that was his Gold Glove year. But Gonzalez finished fifth in the MVP vote even if you sift out first basemen, trailing Pujols, Ryan Howard, Prince Fielder and Derrek Lee.
Only Pujols had a better season than Gonzalez when park factors were taken into account. But Howard and Fielder also had more home runs than Gonzalez, and each played on a better team.
If there's a silver lining to this '09 flashback for those rooting for Kemp in 2011, it's that voters put Fielder in fourth place even though he played for an 80-82 Brewers team that wasn't much more relevant to the 2009 pennant chase than Gonzalez's 75-87 Padres. Fielder's 46 home runs (one behind Pujols) and 141 RBIs (tied with Howard for the league lead) were too gaudy to allow him to slide any lower.
Of course, we're not questioning whether Kemp is Penske material. We're wondering how likely it is that he'll become the CEO. Here's who might be considered the 10 finalists vying with Kemp for the big office.
Albert Pujols. Thanks to a rougher-than usual start, Pujols is not as dominant as he was, although he hit his 29th home run Sunday to retake the National League lead from teammate Lance Berkman and Kemp. I'm not sure anyone playing the odds would expect Pujols to land anywhere below No. 1 in homers when the season ends. But the rest of his traditional stats are closer to mundane, and in advanced, untraditional numbers, he's not really registering. A big September kick that propels St. Louis into the playoffs could certainly reopen his candidacy, but right now there's almost no chance that a perceived down year for Pujols would outpoll Kemp.

Icon SMI

Jose Reyes' MVP hopes have gone to the disabled list with him.

Lance Berkman. Pujols' sidekick -- who signed with St. Louis for $8 million this past offseason -- trails Kemp in total average but by a slim .001. Kemp's overall body of work (including 31 steals versus zero) should push the other Cardinals slugger aside, though.

Jose Reyes. Considered by many to be the other top candidate from a noncontender, Reyes leads the NL in batting average and steals and has shortstop credentials to boot, but his OPS is far lower than Kemp's, and now hamstring issues have sidelined him indefinitely. Believe it or not, Reyes is still on pace for the most triples in the NL since Kiki Cuyler had 26 in 1925, but Kemp is putting some distance between them.

Troy Tulowitzki. Quietly, the Rockies star has become the shortstop to beat in the NL MVP race. According to FanGraphs, he co-leads the NL in wins above replacement and is by himself in fielding value, and he has a nice 23 home runs as the cherry on top. But speaking of Ripley's, Colorado has actually fallen behind the Dodgers into fourth place in the NL West. That, plus the natural discount on Coors Field-boosted stats, has Tulo in Kemp's rearview mirror.

Andrew McCutchen. The Pirates outfielder's long-running snub from the All-Star Game, which finally ended with a last-minute selection as a replacement, might have done more to boost his national profile than anything on the field. Pittsburgh was a surprise contender in the NL Central for most of the season, thanks as much to the 24-year-old McCutchen (a Gold Glove candidate with a bat) as anyone else. But like the Pirates, McCutchen has fallen on hard times lately and has a .684 OPS since the All-Star break.

Joey Votto. The defending MVP (taking 31 of 32 first-place votes last year) has 19 home runs, barely half of last year's 37, and his Reds are 11 games out of first place. He's having a great season, no doubt (.949 OPS, 5.1 WAR, .408 wOBA, league-high 85 walks), but he's not a threat to outpoll Kemp at this point.

Prince Fielder. The aforementioned slugger has marquee stats (.985 OPS, 27 HR, 89 RBI) that resemble Kemp's. Milwaukee -- the Dodgers' destination Monday -- offers a nice showcase between the two players. His plate discipline is better (77 walks, 73 strikeouts), but -- are you sitting down? -- he has 31 fewer stolen bases. Fielder also plays first base, and not particularly adroitly. The Brewers have a five-game lead in the NL Central, though, and Fielder is the biggest reason, at least in size.

Ryan Braun. Every year in Variety as the Emmys approach, we wonder aloud whether two nominees from the same well-regarded TV show will cancel each other out, opening the door for a third alternative. Braun (.965 OPS, 22 HR, 76 RBI, 22 steals) has worthy credentials, but his traditional numbers rate slightly below Kemp's, as does his 5.1 WAR. The presence of Fielder and Braun on the same team could cause each to lose the inherent advantage of playing for a contender.

Roy Halladay. The best players on the best team in the NL are, as you know, pitchers Halladay and Cliff Lee. The Phillies' top position player, Shane Victorino, hasn't even logged 100 games yet this year, while Howard's .840 OPS as a first baseman isn't gonna cut it. Halladay (154 ERA+, 2.51 ERA, 8.4 strikeouts per nine innings) and Lee (137, 2.83, 9.3), on the other hand, have been so good that one of them (slight edge to Halladay) will be a viable option for voters who don't see why a great player on the undisputed regular-season champion shouldn't win. A pitcher hasn't won the NL MVP since Bob Gibson in 1968, but that might not be any less likely than Kemp's becoming the first from a losing team to win since Dawson. Halladay is looking like a Hall of Famer, after all -- voters aren't going to dismiss him out of hand just because he's on the mound. Not this year.

Justin Upton. This one's late-arriving on the radar, but coinciding with Arizona's surge into the NL West lead is what's becoming a monster season for Upton thanks to a 1.109 OPS since the All-Star break. Upton's .379 on-base percentage, .564 slugging, 25 homers, 75 RBIs, 18 steals and .403 wOBA (weighted on-base average) all trail Kemp's, but in most cases not by a ton -- and Upton, a plus fielder, has moved ahead in WAR. This is a classic case of where, by the time the season ends, Kemp might lose the edge not because of what he did but because of what his teammates did.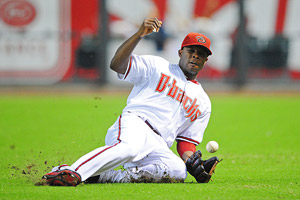 Mark J. Rebilas/US Presswire
Justin Upton has slid into MVP contention -- perhaps the lead position.There are others who will get looks from voters, but no one better than the best on this list.
The NL MVP award is there for Kemp's taking. But he'll have to take it. He is absolutely going to need a finishing kick. Upton, in particular, is exactly the kind of player Kemp needs to watch out for -- someone who meshes with his profile but who's doing it with the pressure of a pennant race.
But it's not just wishful thinking in a downtrodden Dodgers season to believe that Kemp will win the NL MVP. Not at all.