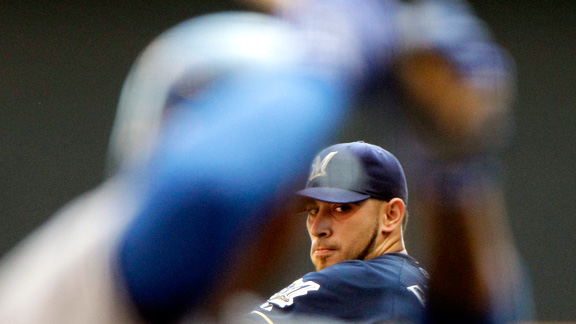 Morry Gash/AP
The Dodgers could see right through Marco Estrada of Milwaukee today.
At the risk of taking Clayton Kershaw for granted, let's bypass his latest sterling effort — eight shutout innings in the Dodgers' 5-1 victory over Milwaukee today — and make our periodic foray into a Bullpen Usage 101. Or maybe it should just be Bullpen Usage 1.
Of course, you know the drill by now, the age-old vexation, the pure folly that is refusing to use your top relievers in a tie game in order to preserve them for a save opportunity that might never come. That's what happened Tuesday, when the Dodgers used the 2011 version of Hong-Chih Kuo and the 21st-century version of Mike MacDougal in a 1-1 ballgame in the bottom of the ninth rather than the Javy Guerra and his scoreless streak of 11 1/3 innings.
[Aside: Kuo was taken out immediately after walking the only batter he faced, Prince Fielder, with Don Mattingly being quoted as saying that he was monitoring Kuo's usage in an attempt to build his confidence. Now, read that sentence and tell me if you see the logic flaw there.]
Anyway, the Dodgers gave up the run they couldn't afford to give up Tuesday and lost. Then, when they could afford to give up four runs and still win today, they brought in Guerra and his 1.57 ERA.
For weeks, Mattingly refused to identify Guerra as his closer, but now he's become so rigid with Guerra that he doesn't see fit to use him any differently than Jim Tracy used Eric Gagne in his Dodger heyday. And that rigidity itself is ironic, because it was Mattingly's flexibility in using Guerra as his ninth-inning stopper — ahead of a veteran with saves and All-Star credit like MacDougal — that gave birth to Guerrarama.
That Guerra allowed a run today doesn't change what the best odds were for the Dodgers.
Someday, managers will stop trying to explain why they think a lead in the 10th is more pressure-filled than a tie game in the ninth, and actually just do the right thing. Mattingly should seize the opportunity to be that man. To paraphrase "Say Anything": "The world is full of guys. Be a manager."
* * *
OK, I can't ignore Kershaw completely.
Kershaw threw only 104 pitches in his eight innings. In the sixth, he was nursing the 1-0 lead that Rod Barajas' 11th home run of the year provided when the Brewers put runners on first and third with one out, and MVP candidates Ryan Braun and Fielder due up.
The 23-year-old retired each batter on the first pitch to get out of the inning. To do so that economically was something of a fluke, but it sure wasn't surprising, and it's that kind of confidence that Kershaw is inspiring that is only adding to his legend.
Kershaw is now at a league-leading 199 strikeouts for the season and five wins away from 20, the latter as cool as it is meaningless. Twenty-three years old.