Below, you can see in graphic form the ongoing power decline for Andre Ethier, discussed here last week. Charts come courtesy of ESPN Stats and Information. Note not only the reduction in balls hit over the fence but also hits to the warning track, compared with 2009.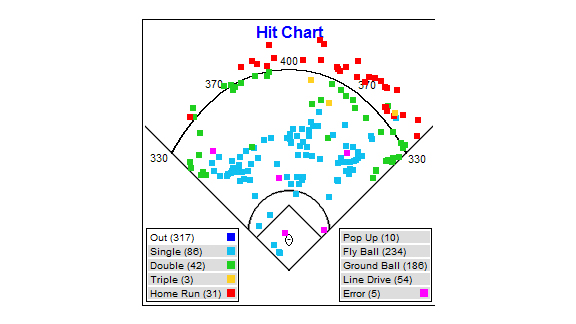 Andre Ethier 2009 hit chart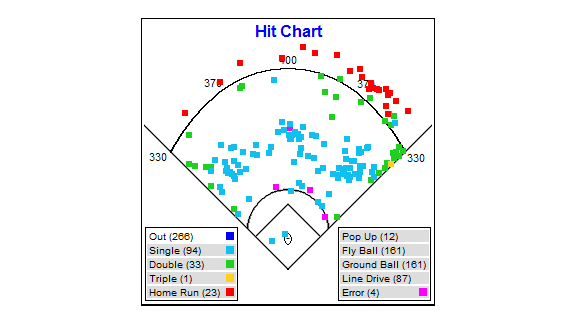 Andre Ethier 2010 hit chart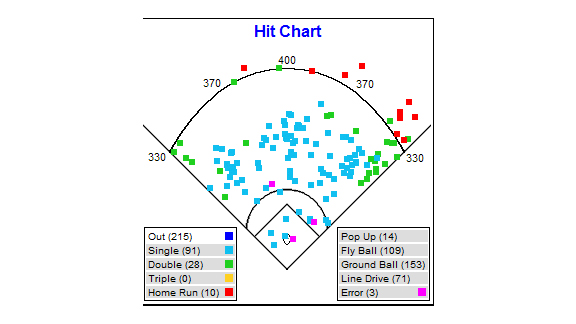 ESPN Stats and Information
Andre Ethier 2011 hit chart
* * *
Albuquerque baseball expert Chris Jackson freelanced a feature for MiLB.com on new Dodger catching prospect Tim Federowicz.
Fair or not, catcher Tim Federowicz finds himself under some extra pressure after being traded.

Los Angeles Dodgers fans were almost uniform in their dislike of the three-team trade that sent outfield prospect Trayvon Robinson to Seattle and brought Federowicz and two pitchers to the Dodgers organization.

The stated intent by Dodgers general manager Ned Colletti was to acquire a catching prospect, something Los Angeles lacked in its farm system. Federowicz said he understands the frustration of Dodgers fans.

"Yeah, they gave up Trayvon -- he's a great player and now he's in the big leagues, doing his thing up there," Federowicz said. "That's tough to lose.

"I guess there is a little bit of pressure to show fans what I've got. But I think it'll eventually work out the way the Dodgers want it to." ...
* * *
Grant Brisbee of McCovey Chronicles was kind enough to show sympathy for Dodger fans when Rubby De La Rosa went down for the count. Now, with the Giants verging toward tailspin, having lost 16 of 23, he might need some for himself. Or maybe time was ripe for a humbling, if you ask Brisbee. From the New York Times:
... Such minor hysteria — sarcastic or not — highlights the uncomfortable fact that, for some, the team's faithful have come to resemble the type of smug, and yet strangely neurotic, supporters of certain big-money East Coast franchises.

"People get on me when I say this, but it's kind of that first step toward the path of the Red Sox fan," said Grant Brisbee, 33, the editor of The McCovey Chronicles, a Web site for Giants fans. "You get a little cocky, a little arrogant. And they say, 'No, no, no, Giants fans aren't like that.' But they're not that far away from getting that really obnoxious national fan base." (Just like Yankees fans, Mr. Brisbee added.) ...
* * *
Finally, here's a cool video feature from ESPN Sport Science on last week's triple play by Milwaukee against the Dodgers: