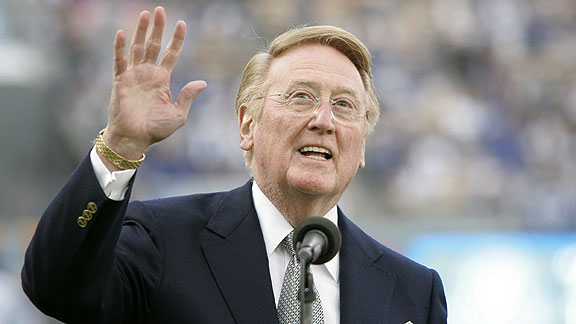 Rich Pilling/MLB Photos via Getty Images
Vin Scully at Jackie Robinson Day in 2007Vin bless us every one.
Vin Scully told fans watching the Dodgers-Rockies game tonight that he would return to broadcast Dodger games in 2012, his 63rd season behind the mic with the team.
As he has in recent years, Scully will call Dodger home games and road games in Colorado and west of the Rockies.
Scully began speaking by holding up a chocolate-chip cookie:
"Every year this time of year a nice lady in Woodland Hills named Mrs. Marti Squires sends me some chocolate-chip cookies. This year when she sent them in the letter it said, 'This is a bribe to get you to come back next year.' Well, I don't want to make a big deal out of it, I mean, you and I have been friends a long time. But after a lot of soul searching and a few prayers, I've decided that maybe we can do it. We've decided that we will come back with the Dodgers for next year. God's been awfully good to me, allowing me to do the things that I've always wanted to do. I asked him one more year at least and he said, 'Okay and be quiet and eat your cookie.' I'll do the same thing. Let's go back ..."
The timing of the announcement isn't unusual – in fact, it came only four days earlier in 2010 – but it comes in the wake of T.J. Simers' column in the Times this week about a Dodgers marketing survey that included an evaluation of Scully among its questions. The ensuing controversy – driven by the idea that the survey was a path toward the Dodgers letting Scully go – grew way out of proportion, however weird the question seemed, especially considering that right in Simers' column was a quote from the Dodgers saying that Vin's job "is his as long as he wants it."
But in any case, there's no more welcome news this year than this.