You can see Vin Scully below in 1962 teleplay "Flashing Spikes," which aired on anthology series "Alcoa Premiere." John Ford directed, Jameson Brewer wrote the script and Jimmy Stewart starred with John Wayne, Fred Astaire, Jack Warden, Tige Andrews and Don Drysdale as "Gomer."
Aaron Miles, 2B

James Loney, 1B

Matt Kemp, CF

Juan Rivera, LF

Andre Ethier, RF

Casey Blake, 3B

A.J. Ellis, C

Jamey Carroll, SS

Chad Billingsley, P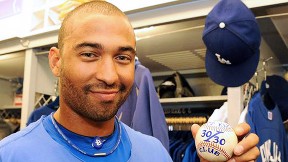 Courtesy Los Angeles Dodgers
Matt Kemp after Friday's game.