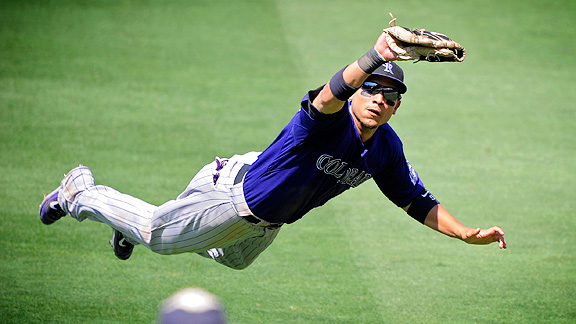 Mark J. Terrill/AP
Carlos Gonzalez was 8 for 13 at the plate this weekend and also killed the Dodgers with his glove.
Today, according to the ledger, was my 581st game at Dodger Stadium in the past 20 years. I would guess that in no more than five of those games have I sat on the left side of home plate. But today, I was in Aisle 119 of the Loge Level, eight rows from the front, just to the left of the screen behind home plate.
It just so happened that from that vantage point, I had the best possible view of what I believe is one of the best catches I have ever seen at Dodger Stadium: Carlos Gonzalez's all-out, mid-air, backhand grab of a Justin Sellers drive near the right-field line with two out and two runners on base in the bottom of the fourth inning. That catch represented the difference between another Dodger comeback victory over the Rockies and what turned out to be Los Angeles' 7-6 defeat.
It also happened that I had a dead-on view of the blooper that Colorado third baseman Kevin Kouzmanoff hit with two out and the bases loaded in the top of the first, a ball that backup right fielder Trent Oeltjen was slow to spot in the Mad Dogs and Englishmen sun and that ultimately went off his wrist. A catch there would have meant Dodger rookie Nathan Eovaldi escaping the first with just a 1-0 deficit. (In fact, a diving attempt by Tony Gwynn Jr. on Troy Tulowtizki's sinking liner earlier in the inning would have delivered Eovladi back the dugout scoreless.)
Instead, by the time his 41-pitch first inning was over, five runs were adhered to Eovaldi's name. He pitched admirably enough afterward, before hitting the showers with a four-inning, 89-pitch stint, but "what might have been" was written all over those first four frames.
Nevertheless, the Dodgers almost pulled this one out, chipping away with single runs in the first and third and then two pair in the sixth in the seventh. There were no baserunners in the eighth or ninth, however, as the Rockies bullpen prevented a repeat of its Friday and Saturday downfalls.