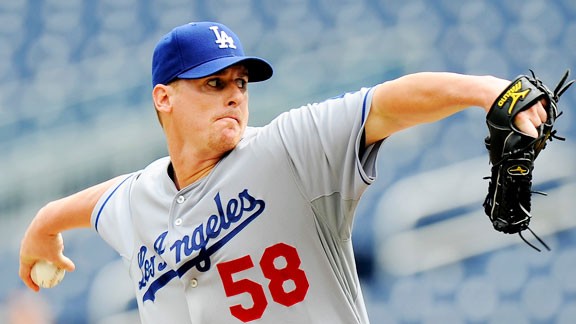 Greg Fiume/Getty Images
Chad Billingsley's ERA rose to 4.30 today.So, which logic do we follow?
Is it the logic that Chad Billingsley is afraid to trust his stuff? That his mechanics have gone awry? Or that might be hurt?
Billingsley was chased with one out in the third inning of today's lidlifter against Washington, after he gave up the Dodgers' early 4-0 lead. Billingsley surrendered four runs on a single, three doubles and a home run in the third, capping an ugly outing in which he allowed eight of his 15 batters to reach base.
Despite concern rising about his performance on this site two weeks ago, Billingsley actually had a halfway decent August, with a 3.77 ERA while averaging more than six innings per start. But his strikeouts per nine innings fell to 5.5 while his walks were at 4.1.
In September, it's just gone off a cliff. Billingsley has made two starts and lasted a combined 6 1/3 innings, allowing seven earned runs on 14 hits while walking six and striking out five.
It may well be that this is a problem of execution (and no, I don't mean the old John McKay joke). But given the history of the Dodgers and their players (punctuated this year by Jonathan Broxton and Andre Ethier) trying to slide by with injuries rather than address them, Billingsley's health is the first question that comes to my mind.
If he's healthy, then this is the perfect time of the year to work out his issues. But if he's hurt, gutting it out only serves to hurt Billingsley and the franchise.