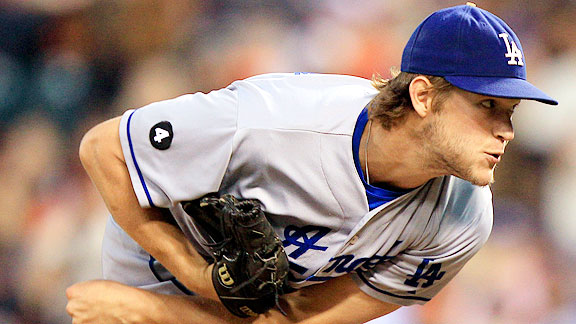 Marcio Jose Sanchez/AP
Clayton KershawOn the 46th anniversary of Sandy Koufax's perfect game, Clayton Kershaw was nearly so.
The emphatic brilliance of Kershaw's pitching renders any play-by-play account of tonight's game too mundane. But I'll give it a try.
The transcendent lefty allowed three hits in eight innings – two of them infield hits that, if fielded cleanly, would have been outs – while walking one and striking out nine in the Dodgers' 2-1 victory over Tim Lincecum and the Giants.
San Francisco's only run was unearned, thanks to a Dee Gordon error on the Giants' leadoff hitter, Justin Christian. Admittedly, after Carlos Beltran drew San Francisco's only walk and Pablo Sandoval drove in the run with the Giants' only hit to the outfield, Gordon then saved Kershaw further damage with a highlight-reel catch of a soft looper to left field. Nevertheless, Kershaw had perfect-game quality stuff.
It looked for quite some time that it would all be for naught, that Kershaw would be the Bob Hendley in this replica of the Koufax perfect game. But the Dodgers twice scratched across runs.
In the eighth inning, with two out, Matt Kemp (2 for 4) hit a full-swing 40-foot grounder that stayed fair. Kemp stole second, thanks in part to a high throw from catcher Chris Stewart, then came around to score on a Juan Rivera single that came on Lincecum's 122nd pitch of the game.
In the ninth inning, Rod Barajas led off with a single. Pinch-runner Eugenio Velez – or as I dared call him, "Vele on wheels" – went to second on Justin Sellers' easy sacrifice and third on a wild pitch by Santiago Casilla.
And then, Jamey Carroll, batting for Kershaw, hit a grounder to second base. Jeff Keppinger fired home, but not in time to get Velez with the go-ahead run.
Javy Guerra retired the Giants in a perfect bottom of the ninth on 10 pitches, and the Dodgers had won the game. Los Angeles improved to 71-72 and closed to within 3 1/2 games of the Giants for second place in the National League West.
But probably more importantly to Dodger fans, Kershaw lowered his ERA to an NL-leading 2.36 while improving his own record to 18-5. Since June 15, his ERA is 1.55. Since July 7, his ERA is 1.19.
According to Jeff Fletcher of AOL Sports, Kershaw's ERA in four head-to-head meetings with Lincecum is 0.62 (his rival is 2.03). Kershaw's career ERA at AT&T Park is 0.45.
His WHIP in 2001 is 1.001.
Simply tremendous. For all the tribulations of 2011, it has been a privilege to watch Clayton Kershaw.