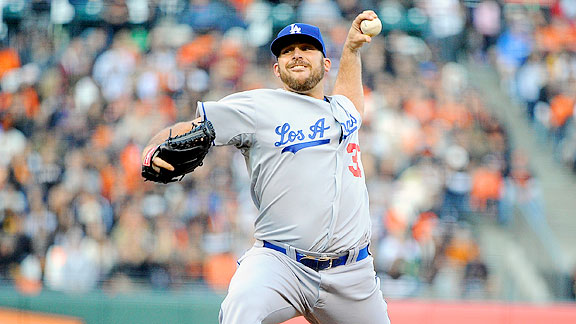 Thearon W. Henderson/Getty Images
Dana Eveland
In a year that has been so impossible, the improbable has happened.
The 2011 Dodgers, which threatened for most of the year to be the worst Dodger team since 1992 and one of the worst in the franchise's Los Angeles history, have fought their way back to a .500 record, capping the comeback by defeating the Giants tonight, 3-0.
With 17 games left in the season, the Dodgers have 72 wins and 72 losses, going 35-21 (.625) since July 7. The Dodgers have been the fifth-best team in the majors since that time.
39-15 .722 Phillies
39-20 .661 Brewers
38-20 .655 Diamondbacks
37-20 .649 Tigers
35-21 .625 Dodgers
36-23 .610 Yankees
34-23 .596 Angels
It's a pretty incredible turnaround, and it shows just how big a hole they dug that except for maybe the Angels, they're the only one of those teams above that won't be going to the playoffs - in fact, they won't even be close. They will possibly finish as high as second place, having pulled within 2 1/2 games of San Francisco (75-70) – but they're only a half-game closer to first place than they were July 7, thanks to the similarly ridiculous run of Arizona.
The Dodgers won tonight with their "trips right" offense – James Loney and Matt Kemp scoring the first two runs after each hit triples to right off Ryan Vogelsong and his sub-3.00 ERA in the second and fourth innings – and with the remarkable pitching of Dana Eveland.
Eveland might be doing it with mirrors, but they're efficient mirrors. He has struck out only six batters in 15 innings over two starts with the Dodgers, but he's been practically untouchable.
Tonight, he shut out San Francisco over seven innings, allowing two singles, a double and a walk before the eighth inning, when he walked the leadoff batter and was replaced by Kenley Jansen. Jansen gave up a single but retired the next three batters (all of them tying runs) to keep the shutout alive, and Javy Guerra put the Giants out in the ninth (after allowing two baserunners) to close it.
Two big plays helped the Dodger pitchers: a leaping catch by Justin Sellers, in his first MLB start at third base, of a Brandon Belt liner after two of the Giants' hits of Eveland had put runners on second and third, and a running catch at the wall in center with one out and one on in the ninth by MVP candidate Kemp, with Belt again the victim.
Juan Rivera went 3 for 4 and drove in a run, while Loney had two hits and a walk.
Joe Block of KABC AM 790 tweeted that Eveland had never before pitched consecutive games totaling 15 innings and 193 pitches. Has the 27-year-old, who was injured in Spring Training and spent all season in the minors before September 1, resurrected his career and become a contender for the 2012 roster? It's interesting to read what I wrote about him seven months ago in the 2011 Dodger Thoughts Spring Training Primer.
The 28-year-old (oops - not until October) has slung a 6.96 ERA the past two seasons with 204 baserunners allowed in 98 1/3 innings against 46 strikeouts. Last year, he sucked Toronto in by allowing four earned runs in his first three starts, only to finish the year back in the high sixes. In short, like many professionals, he's capable of a solid outing every now and then, but it's a roulette wheel you don't want to spin.
It sounds harsh, even wrong, to be dismissive of Eveland. You should keep your guard up long-term, but feel free to celebrate him – and the turnaround Dodgers – tonight.