There's a level of sincere humility to the film version of "Moneyball" that might shock those expecting to see it cloaked in arrogance.
Next to the question about whether the material in Michael Lewis' book was viable for a movie in the first place, the most common shot I've seen taken at the idea of the film, which I saw a screening of Monday, is "what's the point?" Because Billy Beane's Oakland A's have never reached the World Series, much less won it, why would they worthy of the big screen?
Putting aside the fact that this criteria would eliminate about a thousand works of art – "Rocky," "The Bad News Bears," "Major League," the entire history of "Peanuts" – note this well: The Billy Beane of "Moneyball" would share the same question. No one is more acutely aware of the A's shortcomings than he.
But "Moneyball" does have a story to tell, a worthwhile and engrossing one. It is not a sermon. "Moneyball" is about faith in a calculated belief, and all the torment that comes when that faith is tested, and the unexpected kind of reward you can get for taking that test, no matter how it comes out. It's a movie about a pursuit, not a coronation. It's anything but a coronation.
It's my belief that, while no movie is universally beloved, this approach opens the door for "Moneyball" to be accepted and enjoyed by those who took the book as a mockery of the game they love, by those who were entertained and embrace what was articulated in Lewis' book, and by those who have no vested interest in the debate, or even the sport. It's such a human movie – with Brad Pitt's Beane a nuanced, multidimensional character, one with many faces – that it's not easily dismissed.
You won't like everything Beane does in this movie – but that's cool, because the character doesn't even like himself completely. Yet you will clearly understand where he is coming from, and I find it hard to believe that most filmgoers won't get on board with his journey. He cares so passionately, and the way he places his faith in a new system doesn't, contrary to what some might think, mean he has no appreciation for what personalities and romance mean in the game.
Sharing credit with Steven Zallian ("Schindler's List"), screenwriter Aaron Sorkin ("The West Wing," "The Social Network") famously worked on the long-percolating script, but the film doesn't have what would be considered the classic Sorkin touches – monologues with overflowing words and hyper-articulate speech. Characters in "Moneyball" – most notably Beane himself, who is in nearly every scene – tend to get to the point quickly, often bluntly. Except for some moments, particularly early in the film, when there are talking points disguised as dialogue ("It's an unfair game," a paraphrase of the subtitle of Lewis' book, is spoken), the dialogue is naturalistic.
And yet, as the movie goes on, increasingly electric. There are numerous scenes with very sharp, pointed exchanges – make no mistake, there is a fierce tug o' war going on in Oakland and in the game – and in particular, the depiction of the July 31 trading deadline maneuverings is really cracking good fun.
The storytelling is formulaic in the strictest sense of what the sports film formula is, but the scenes themselves don't really feel that way. This is buoyed by the fact that the film, despite whatever liberties it takes here and there, is grounded in what did happen. But there isn't a dead or cloying scene in the film – there's a purpose to each and every one. "Moneyball" isn't a short movie, coming in at 133 minutes, but its pacing, under the direction of Bennett Miller ("Capote") is excellent. (I'd add that Mychael Danna's music, at times minimalist, at times evoking the loveliness of television's "Friday Night Lights" and at times appropriately grand, is a real boon to the film.)
The film also isn't a comedy, but there's plenty of humor, most of it almost catching you almost by surprise. That being said, the thing that might amuse baseball fans the most is the idea of how much life-and-death importance is placed on names like Jeremy Giambi and Ricardo Rincon. (And pity poor Mike Magnante.)
There are brief sidelights into Beane's personal life – which some might interpret as mere lip service to entice female viewers. I would argue instead that in the best sense, they're economical (given the film's existing length, almost necessarily so). They inform the lead character of the movie, leaving for you to infer what you don't see, while playing a wonderfully unexpected role in the film's climax.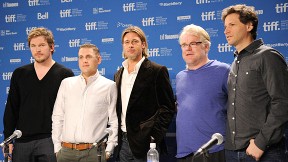 Evan Agostini/AP
Chris Pratt, Jonah Hill, Brad Pitt, Philip Seymour Hoffman and director Bennett Miller at a panel for "Moneyball" during the Toronto International Film Festival last week.
While Pitt anchors the film, Jonah Hill's performance as Peter Brand – the character that takes the place of former A's (and Dodger) executive Paul DePodesta, is the film's second-most pleasant surprise.
Hill's casting was the red flare for fans of DePodesta and/or the book, a vexing warning that the advanced analysis underscored in the book would be played for laughs the same way as, say, Hill's quest for booze and sex in "Superbad." Instead, Hill plays Brand in reserved, endearing fashion. He's the twigs and branches for Beane's fire.
I do think that fans in the know have to let go of the idea that Brand is DePodesta – despite whatever similarities there are, the differences are too obvious to ignore. But whether you think of Brand as Brand or as DePodesta, I think the character works much better than you'd expect, and in ways different than you'd expect. While Philip Seymour Hoffman, as Oakland manager Art Howe, offers an even starker example of what I would call dynamic restraint, it's Hill who carries the most secondary weight to Pitt.
Where are the movie's flaws? There are certainly moments where the conversation feels forced, with thinly disguised talking points. But probably for me, the baseball scenes, which were praised for their authenticity by panelists at the Variety Sports Entertainment Summit in July, don't measure up to that standard. Miller mixes real-life footage with the newly filmed scenes, and it's not so much that the mix doesn't work, but that it really highlights how different the re-creations look. In fact, there's a stylistic approach to some of the baseball scenes that all but removes any pretense of reality. It's probably the one part of the movie that doesn't seem to have been executed with authority.
Elsewhere, the script shortcuts some explanations of Beane's rationale. In general, although the "Moneyball" philosophy is about broader ideas about value in the marketplace – and this is definitely alluded to – some viewers might be left with the impression that it's only about on-base percentage. In particular, I don't think it's a spoiler to say that Beane at one point comes down hard against bunting and the stolen base, and Old School fans might think this is where he's gone mad. The fights that Beane has with Howe over the Oakland starting lineup struck me as more black-and-white than they probably were in real life. There are other small details that rang a bit false, and some fussing with the real-life timeline, but I would venture to call these quibbles.
In the end, I think "Moneyball" is an important film for baseball fans. Whether you bought into the book or ignored it, "Moneyball" was (next to angst over performance-enhancing drugs) the central conflict of baseball in the past decade. The film puts forth this debate in a richly entertaining way, making it clear why it was such a big deal without falsely overstating its legacy.
I honestly don't expect I'll see many better movies than "Moneyball" in 2011, and I think it will get serious consideration for an Oscar nomination – though, appropriate to the team it depicts, it will probably fall short of winning. But the thing is, I've been comparing it to "The Social Network" for a long time now, but I'm not sure "Moneyball" is not a better film. I think most will view "Social Network" as having told a more important, more timely story. But the character at the heart of "Moneyball" and his personal story are more compelling, possibly more universal. I told you that Hill was the second-most pleasant surprise in the film – the most pleasant surprise is how much "Moneyball" rang true to me even after you strip all the baseball away.