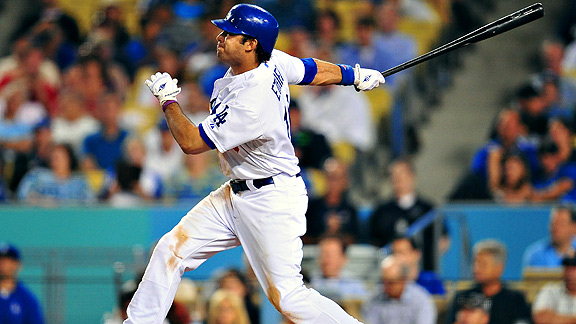 Gary A. Vasquez/US Presswire
Andre Ethier might not have hit for power in 2011, but he'll earn for power in 2012.
2011-12 Dodger Offseason Payroll Worksheet
Note: Salary figures marked with an asterisk are estimates. Contract and roster information has been researched, but corrections are welcome. Minor leaguers not on 40-man roster have not been included. Cot's Baseball Contracts and True Blue L.A. were used as resources for some of the below information.
So, you were maybe expecting some payroll relief for 2012?
So long Casey Blake, so long Rafael Furcal, so long Jon Garland and Vicente Padilla and maybe Hiroki Kuroda and James Loney, hello dollars to spend?
Well, hate to break it to you, but …
Because several Dodgers from Clayton Kershaw and Matt Kemp to (gulp) Juan Uribe are getting huge raises next year, the Dodgers already have approximately $100 million committed to next year's roster. And if they don't surrender exclusive rights to Loney, you can bump that total even higher.
This is a $100 million team even without Prince Fielder, Albert Pujols or Henry Aaron. This is a $100 million team even with Dana Eveland and Nathan Eovladi in the starting rotation, even with A.J. Ellis, Dee Gordon, Justin Sellers and Jerry Sands in the starting lineup, even with a bench in which the highest-paid, most experienced reserve is Trent Oeltjen.
Blame Kershaw (if you dare blame the greatest lefty pitcher in a Dodger uniform in the past 30-to-45 years) for the biggest payroll hike. After making $500,000 this season, Kershaw is eligible for arbitration for the first time this winter. Tim Lincecum, at a similar point in his career, asked for a $13 million in arbitration while the Giants offered $8 million; the parties agreed to a two-year contract averaging $11.5 million. I originally estimated $11 million for Kershaw in 2012, but others online have suggested that he won't get more than the $8 million that was actually Lincecum's base salary in 2010. So I'm compromising with a $9 million estimate for Kershaw – and if that's too high, it's not going to be too high by much.
You can also blame MVP candidate Matt Kemp, who earned just shy of $7 million in the second year of his two-year deal. Having missed their chance to lock Kemp up for a lower figure longterm, the Dodgers probably will have to double his salary in 2012, give or take a few bucks, based on what's happened to players of similar esteem. And Andre Ethier might end up making almost exactly as much, because he is coming off a salary of $9,250,000. Though his season was unfulfilling in some respects, a raise of at least 50% into the $13 million range is much more likely than not. (Last year, Loney got a 57 percent raise for a season considered a disappointment.)
And then, the backloaded contracts of Uribe and Ted Lilly move to the fore. Uribe, who earned $5 million while reaching base 78 times in 2011 with a .557 OPS, will get direct deposits totaling $8 million in 2012 as he aims for the Comeback Prayer of the Year Award. Lilly, with a 2.32 ERA since August 1, jumps from $7.5 million in 2011 to $12 million in 2012, including a deferred $1.5 million of his signing bonus.
Oh, by the way, middle reliever Matt Guerrier can also increase his 401(k) allocations, his salary bouncing from $1.5 million to $4.75 million, while Chad Billingsley's three-year contract extension launches with a $9 million rate for 2012, up from $6.275 million this year.
For seven players – Kershaw, Kemp, Either, Uribe, Lilly, Guerrier, Billingsley – the Dodgers will pay $69,250,000. Maybe more.
Then there's the deferred money going to players no longer on the Dodger roster. This causes great handwringing every year, and all I can say up front to the handwringers is, you need to get over it.
Yes, the $8 million-plus going to Manny Ramirez is painful, but at least Ramirez helped the Dodgers reach the National League Championship Series twice. Yes, the $3 million-plus going to Andruw Jones underscores the need for "root canal" to come in adjective form, but without restructuring Jones' contract or an alternate reality in which the McCourts weren't such avid homeowners, the Dodgers don't get Ramirez in 2008.
These and other payments, such as the $1.25 million expected buyout of Blake's 2012 option, add up to more than $21 million for 2012, according to the information compiled by Cot's Baseball Contracts and True Blue L.A. It's unfortunate, and exceedingly problematic for the coming year. But teams across the country have bad contracts. The Dodgers, while perhaps elite in this respect, are not unusual.
In any case, add in the non-Dodger payments to our original seven, and Los Angeles is now shelling out roughly $91 million with 18 spots on the active roster to fill.
The good news is that several of those spots can be filled cheaply with some promising players. For example, pitchers Eovaldi, Kenley Jansen, Javy Guerra, Scott Elbert, Josh Lindblom and Rubby De La Rosa (paid while he's on the disabled list) should each make below $500,000. (The last thing the Dodgers should do is spend money on an overpriced veteran reliever.) Same with guys like Dee Gordon, Jerry Sands and A.J. Ellis.
But if, for example, the Dodgers plan an upgrade over Justin Sellers in the infield, or Eveland in the rotation, that's going to cost.
That makes what happens with three players particularly intriguing: Loney, Hiroki Kuroda and Hong-Chih Kuo. Loney has made the case for his return with a strong final push, but do the Dodgers think he'll be worth $6.5 million or so in 2012?
Kuroda has become like Vin Scully in making us wonder every year whether he'll return. Kuroda, who earned $8 million plus performance bonuses in 2011 but is owed another $1.5 million next year no matter what happens, is a year older but coming off his best season as a Dodger. If he comes back, expect him to earn a similar salary. But will he come back?
As for Kuo, despite his difficult 2011 season, he would easily go up from $2.725 million in 2011 if the Dodgers didn't release their exclusivity on him. But it seems more likely that Los Angeles would non-tender him and then try to sign him as a free agent at a lower rate, if he doesn't retire and open a restaurant first.
And if they go without any of these guys, will it be to save money to fill the rotation, save money to get the big-fish infielder like Pujols, Fielder or Aramis Ramirez, or to save money, period?
Would they consider validating Ethier's worst fears and moving him for salary relief? As much as Loney's worth has been questioned, Ethier stands to make about twice as much as Loney in 2012 despite a 2011 OPS that is only .042 higher than Loney's.
It's difficult to say what the bottom line is, given that we don't know what the Dodgers' top payroll limit is. If Frank McCourt wins in Ownership Court anytime soon, anything's possible. But if he loses, or if – as is most likely – the saga remains "to be continued," the Dodgers are in for some hard decisions.