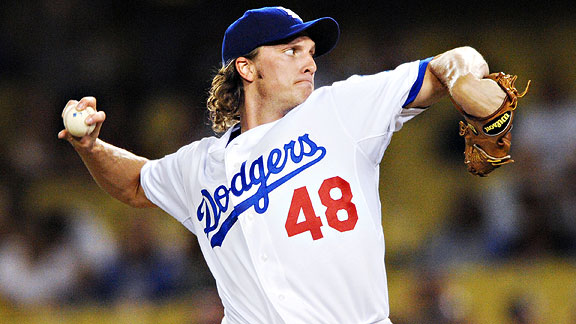 Kelvin Kuo/US Presswire
John ElyThe setup: Last year's rookie darling, at least before his pinpoint control abandoned him midway through the 2010 season, Ely was believed to hold enough usefulness that, amid a seeming lack of alternatives, he figured to be the first minor-league pitcher the Dodgers would turn to in 2011 if anything happened to Clayton Kershaw, Chad Billingsley, Hiroki Kuroda, Ted Lilly or Jon Garland.
The closeup: As soon as April 10, the ninth game of the season, the Dodgers did turn to Ely, because Garland hadn't yet recovered from his Spring Training oblique injury. And Ely was one strike away from a quality start, having allowed two runs in 5 2/3 innings, when he then walked San Diego's Ryan Ludwick and then gave up a home run to Nick Hundley. If the Dodgers were going to be forgiving, an uneven performance at Albuquerque (5.99 ERA) changed their minds: Despite Garland soon being lost for the season, Ely made no more starts for Los Angeles in 2011, passed over in favor of Rubby De La Rosa, Nathan Eovaldi and Dana Eveland. In fact, Ely made only four other appearances in the majors this year. One of them was June 5, when he had a chance for a four-inning save before faltering in the ninth. The other three came after rosters expanded in September, when Ely pitched four innings of shutout ball, lowering his season ERA to 4.26 with 13 strikeouts against 12 hits and an uncharacteristic seven walks in 12 2/3 innings.
Coming attractions: Ely wouldn't seem to figure in the Dodgers' plans for 2012, especially with a new wave of homegrown minor-leaguers making the grade. Pitching in Albuquerque certainly seems to have done him few favors. On the other hand, he's still only 25, and if not the Dodgers, some team might see if he can rediscover the confidence control that made him such a hit in 2010. In the same fashion that Eveland got another shot this year, perhaps Ely can too.