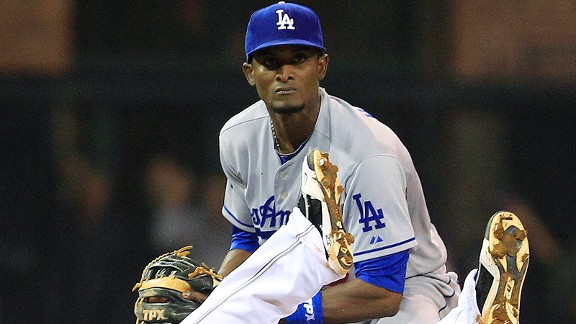 Lenny Ignelzi/AP
The setup: A .264 hitter with a .701 OPS in his first three seasons with San Francisco, Velez had fallen to .164 and .555 in 2010. He was actually batting .412 after going 3 for 5 against the Dodgers on April 17 last year, but finished his major-league action with a little-noticed hitless streak of nine at-bats. Signed to a minor-league contract by the Dodgers in December, Velez settled in nicely with Albuquerque, posting a .339 batting average and .371 on-base percentage with the Isotopes in 55 games. To emphasize that last point, Velez had 74 hits in Albuquerque before he was called up by the Dodgers in July and, if you look at the Isotopes' batting average leaders, is No. 1 among those who played in at least 10 games, above such players as Trent Oeltjen, Dee Gordon, Tim Federowicz, Ivan De Jesus Jr., A.J. Ellis, Justin Sellers, Jay Gibbons, Trayvon Robinson, Russ Mitchell and Jerry Sands.
The closeup: Um, well, Velez did not hit .339 with the Dodgers. Or .239, or .139, or .039, or .0039. Though he was twice walked and once hit by a pitch, he failed to get a hit in 37 at-bats, establishing records for a non-pitcher for most hitless at-bats in a single season as well as longest hitless streak period: 46. Since a third-inning single on April 20, 2010, Velez is an unbelievable 1 for his last 66 in the majors: an .015 average. And if not for extra innings on May 18, 2010, Velez would be riding a hitless streak of 66 at-bats. There were also few instances of Velez just missing a hit in 2011. According to Baseball-Reference.com, he struck out 11 times (including all three at-bats of his seventh and final start of the year) and made 18 infield outs, in comparison to eight outs recorded by outfielders. He was credited with two line-drive outs in the majors this year.
Coming attractions: When he reached 46 consecutive hitless at-bats, Velez broke a record jointly held by two others who spent time with this franchise, Bill Bergen and Craig Counsell. Bergen was 31 when his streak ended in 1909; he collected 70 more hits over the final two seasons of his career. Counsell was 2 1/2 weeks shy of his 41st birthday when his streak ended in August, and he actually finished the season in an 11-for-40 hot streak (.275). So it's not as if Velez, 29, should never get a hit again. However, Velez does have a burden borne by neither of his predecessors: He has to carry his hitless streak into his offseason job hunt. No one's going to hand him a major-league job that offers him an early opportunity to exorcise this particular ghost. Velez will be playing in some organization next year, but he's going to have to work his way up from the minors, and then figure out how to hit it where they ain't. Expect him to drive in a go-ahead run with a double down the line against the Dodgers sometime before the decade is over.