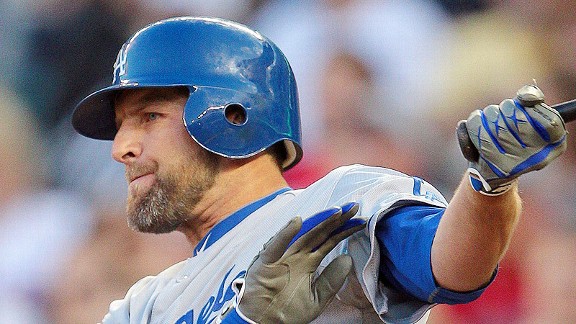 Jesse Johnson/US Presswire
Casey BlakeThe setup: After an .832 OPS in his first full season as a Dodger in 2009, Blake played in 146 games in 2010 but fell to a .727 OPS. The Dodgers believed going into 2011 that Blake would need more regular rest to remain productive.
The closeup: Forget about rest: Blake hit the disabled list before Opening Day, setting the tone for an injury-riddled season. When he did play in April, he was actually red hot, with a .446 on-base percentage and .509 slugging percentage in 14 games, only to return to the DL before the month was over. When he was activated in late May, he started out 5 for 16, but then suffered through a rough June: .250 on-base percentage, .262 slugging. His third trip to injured reserve soon followed, taking him out for most of July. He was his average self in August (.720 OPS), but on September 1, he finally succumbed to ongoing and career-threatening neck issues and called it a season. He finished his whip-around year with a .713 OPS but played in only 63 games, hitting four home runs.
Coming attractions: For a ballplayer who didn't become a major-league regular until he was 29, Blake has had a fine career: .336 on-base percentage, .442 slugging and 167 home runs while playing a solid third base. Whether he adds to it remains to be seen. The rumors of his impending retirement might be exaggerated, but how much the 38-year-old family man with five kids ages 10 and under wants to spend another year in the bigs destined to be a reserve is unclear. At a minimum, he became in his 3 1/2-year Dodger tenure one of the team's top-five third basemen ever in Los Angeles.