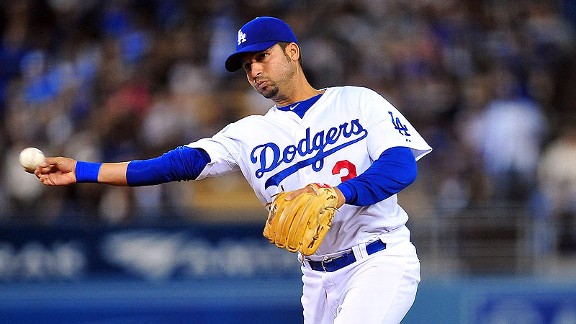 Jesse Johnson/US Presswire
The setup: The long-respected defender played in exactly one game for the Dodgers in 2010, his third separate stint with the team. Nonetheless, in December, Los Angeles re-signed him as a minor-league free agent. He almost retired in March after not making the Opening Day roster, but ended up heading to the minors — where he promptly missed a month with an oblique injury. Still, once he was back on the field, was there any doubt he'd find his way back to Dodger Stadium? On May 13, almost exactly 20 years after the Dodgers signed him as an amateur free agent at age 19, the Dodgers brought Castro up from Albuquerque, sending Ivan De Jesus Jr. down to play in Triple-A regularly.
The closeup: Castro helped the Dodgers to two extra-inning wins, on May 20 against the White Sox and on June 4 in Cincinnati, where he had a leadoff single in Los Angeles' four-run 11th inning. But two days later, when the Dodgers decided to launch the Dee Gordon era in the wake of another Rafael Furcal injury, Castro was designated for assignment. On June 10, he retired from baseball, finishing his season with a career-high .286 batting average (4 for 14) and his playing career with a.595 OPS in 1,103 games over 17 seasons. Rarely charged with errors, Castro also has the 15th-highest fielding percentage for shortstops in MLB history. His retirement arguably paved the way for Eugenio Velez to become a Dodger a month later.
Coming attractions: It was initially reported that Castro would be a special assistant to Ned Colletti, but he is actually serving as a minor-league roving instructor for the Dodgers.