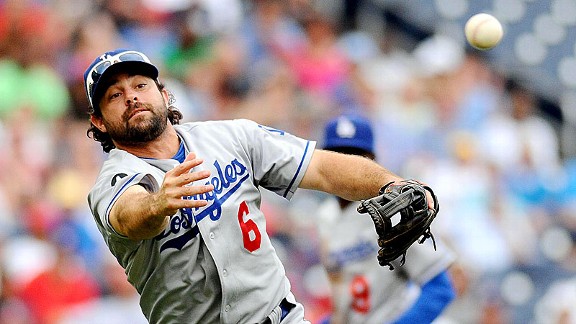 Evan Habeeb/US Presswire
The setup: After hitting .185 with a .224 on-base percentage in 74 games for the Cubs in 2009, Miles was traded to the A's, traded to the Reds, released and signed by St. Louis within a six-month period. He began to rebuild his career with the Cardinals in the second half of 2010, hitting .281 with a .311 OBP in 79 games. A free agent, Miles wasn't signed for 2011 until February by the Dodgers, whose thin bench made him a contender for a spot on the 25-man roster.
The closeup: Miles not only wore a Dodger uniform on Opening Day, he was pressed into starting duty at third base in two of the first three games. By the last week of April, injuries to Rafael Furcal and Juan Uribe created openings in the lineup for both Jamey Carroll and Miles, who would end up starting 110 times in 2011 with 490 plate appearances, his most since 2004 and fifth most on the '11 Dodgers. (Miles and Carroll combined for exactly 1,000 plate appearances this season.)
Miles unexpectedly thrived as a Dodger, with a 4-for-4 performance on July 1 raising his batting average for the season to .324, though he only had five walks in 227 plate appearances. That won him many fans in Dodger dugout – Don Mattingly started Miles in every spot of the batting order except cleanup and ninth – as well as in the cheap seats, in what to that point was obviously an especially trying year for the franchise overall. So when he hit .231 for the remainder of the season (though with a higher walk rate), few noticed.
Coming attractions: Miles, who has changed organizations eight times in his career, may yet return to the Dodgers, who have room for an experienced reserve in the infield. The 35-year-old would command a raise from his $500,000 salary, but nothing earthshattering. Whether the Dodgers should go out of their way to retain someone whose .660 OPS was his highest in three years is another matter, but odds are if they don't end up with Miles, they'll end up with someone like him. By comparison, Carroll, who turns 38 in February, had a .706 OPS this year.