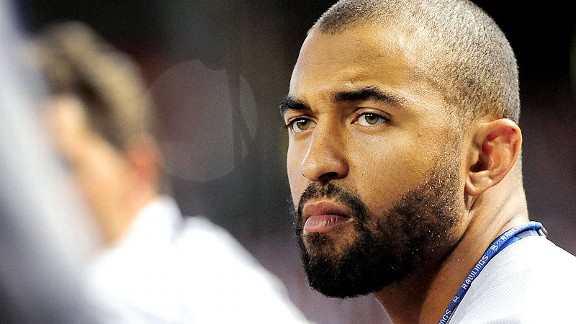 Jennifer Stewart/US Presswire
Matt Kemp (17)A year ago today, on the occasion of John Wooden's 100th birthday, I published a long piece about Matt Kemp, the Pyramid of Success and the deceptive complexity of "effort."
... If Kemp were to say to himself – and I personally don't think for a moment he is saying this to himself – "I have money, I have love, I have a good job and I have my health, and I have this all just by being who I already am, and even though I'm no longer the best, that's all I need," no one would think for a moment that this was a legitimate perspective, even though outside the world of competitive sports, it most certainly is. In sports, there's no greater sin than unrealized potential. And yet in life, in real life, letting some of your potential go at a certain point can actually be a gift to yourself and your loved ones. ...

... In the coming year, we'll see what Kemp is made of at age 26. We'll see how much he steps up his mental game. It's silly to assume that he won't develop at all, but if he doesn't develop as much as people like me hope, there are all kinds of reasons why. They're not excuses. They're reasons.

None of us know how Kemp will respond to the challenge. I'm not sure Kemp even knows. Plus, his performance in 2011 won't necessarily be an accurate reflection of his work ethic. He could coast, and improve based on just natural development. He could bust his butt, and slide farther back. People will cheer if he does well, boo if he does poorly, draw conclusions based on whatever they see fit. ...
Kemp had a 2011 season that would seem to have, to use an appropriate metaphor, covered all the bases. If the man behind the curtain were to pull it aside and reveal that the Bison did not attack 2011 with a singularity and clarity of purpose and determination, simultaneous to the continued blossoming of his natural gifts, it would be a remarkable surprise.
Paging through just a portion of his season highlights ... you think you have perspective on his season, and you realize just how many distinct, superlative moments it comprised.
From Opening Day, when he reached base four times, to the end of the season, when he hit his 39th home run, drove in his 126th run, scored his 115th run, recorded his 195th hit, finished his season with a .399 on-base percentage and .586 slugging percentage and completed his case for the National League Most Valuable Player Award (as well as Baseball America's Major League Player of the Year Award, officially) ... do I need to even need to finish this sentence? Kemp was a bullet train, a cross-country express that never slowed, that only wavered under the vibrations of his own self-generated force.
Clarity of purpose.
A year ago today, I injected myself arrogantly into the discussion of Matt Kemp, the Pyramid of Success and the deceptive complexity of "effort," with the implication that, for all our tangible differences, Kemp and I might in some way be kindred spirits. The similarities seem much more esoteric now. Kemp broke through the barriers like Chuck Yeager flying Glamorous Glennis through the speed of sound – the date was October 14, John Wooden's 37th birthday and the last he celebrated before coming west to UCLA – while I find myself as I was a year ago, as I have been so many years, unsure of both what direction and what velocity I should choose, yearning to feel satisfied and yet nagged that I can't be.
Matt Kemp pierced through all that. He mastered the art and science of baseball and life this year, to my great delight, and I'm still feeling the sonic boom.