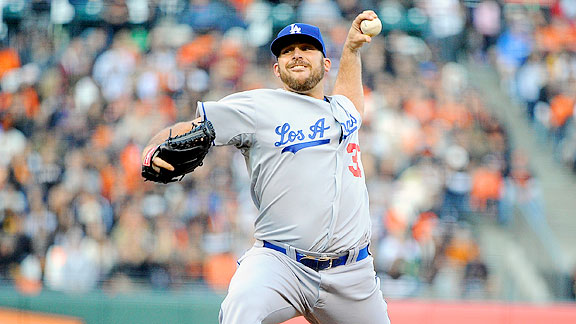 Thearon W. Henderson/Getty Images
Dana Eveland (31)The setup: Eveland, 28, drew a non-roster invite from the Dodgers over the winter to Spring Training. After pitching 168 innings for Oakland in 2008 with a 4.34 ERA, Eveland staggered through the next two seasons with a combined 6.96 ERA in 98 1/3 innings for the A's, Toronto and Pittsburgh, allowing 204 baserunners while striking out 46. Eveland than had the honors of incurring the Dodgers' first Spring Training injury of 2011, a bum hamstring that eliminated whatever chance he had of making the Opening Day roster.
The closeup: Eveland ended up being Albuquerque's top pitcher in 2011 with a 4.38 ERA in 154 innings, averaging more than six innings per start in the tough hitting environment to become a Pacific Coast League All-Star. Still, it wasn't until September came and the Dodgers were winding down the season of youngster Nathan Eovaldi that Eveland returned to the bigs. He dominated his first start, holding the Pirates to one run over eight innings and 99 pitches, an achievement by a first-time Dodger matched by only four others in the past four decades. In start No. 2, he shut out San Francisco over seven innings to lift the Dodgers to a .500 record in 2011 for the first time in ages.
His next two outings went not nearly as well (nine innings, nine runs combined), but he finished on an upbeat note with 5 2/3 shutout frames at Arizona, ending his season with a 3.03 ERA. He allowed 36 baserunners in 29 2/3 innings but struck out only 16.
Coming attractions: Eveland is in that position of renting a spot in the Dodger rotation in November but being a long way from owning it in April. As an inconsistent pitcher who doesn't strike many out, Eveland would still have to prove he's more than a spot starter.