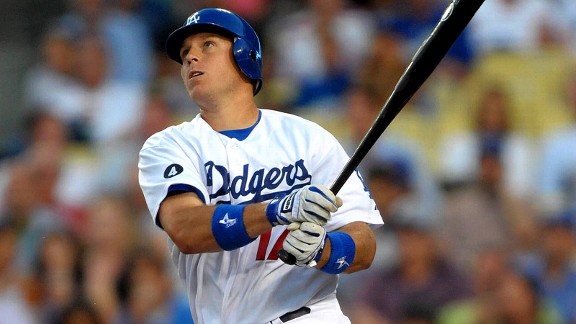 Kirby Lee/Image of Sport-US Presswire
A.J. Ellis (36)The setup: In fits and starts through 2010, his final season before turning 30, Ellis got his first extended time on the Dodger roster, backing up Russell Martin after Brad Ausmus was hurt and then sharing catching duties with Ausmus and Rod Barajas after the season-ending injury to Martin in July. He struggled at first before going 3 for 3 on August 22 against Cincinnati, a game that kicked off a season-ending stretch in which he went 18 for 39 with three doubles and eight walks for a 1.101 OPS. Nonetheless, the offseason signings of Barajas and then, most painfully, Dioner Navarro set the stage for Ellis to return to Triple-A for the fourth year in a row.
The closeup: Because of an early injury to Navarro, Ellis began 2011 on the Opening Day roster after all, but played in only six games (with a .421 on-base percentage in 19 plate appearances) before reaching his intended destination of Albuquerque. In Triple-A, he proved nearly half-impossible to get out – for 2011 with the Isotopes, he had a .467 on-base percentage in 248 plate appearances. When Barajas went down with a midseason injury, Ellis came back, started hot, but went 2 for 17 with two walks in six July starts over eight days, and headed back to Triple-A.
On August 23, the Dodgers decided they had had enough of Navarro, and recalled Ellis for the remainder of the year. In his first game back, Ellis hit his first major-league home run along with an RBI single in a Dodger victory that seemingly buried the St. Louis Cardinals' postseason hopes. (Things change.) Ellis hit his second homer 10 days later and once again finished the year strong, with a .976 OPS over his final five weeks.
Overall in 2011 with the Dodgers, Ellis had a .392 on-base percentage and .376 slugging percentage in 103 plate appearances, while throwing out four of 15 runners attempting to steal.
Coming attractions: For the first time, Ellis has a position on the Dodger Opening Day roster dedicated to him, as well he should – a catcher with a career .360 OBP in 244 plate appearances should be no worse than a backup. As things stand now, Ellis would share time with rookie Tim Federowicz, but it's impossible to believe the Dodgers won't acquire another catcher that would allow them to put Federowicz in the minors to start the 2012 season if they desired. The question, then, is how much time that catcher-to-be-named-later would take away from Ellis – a little or a lot.