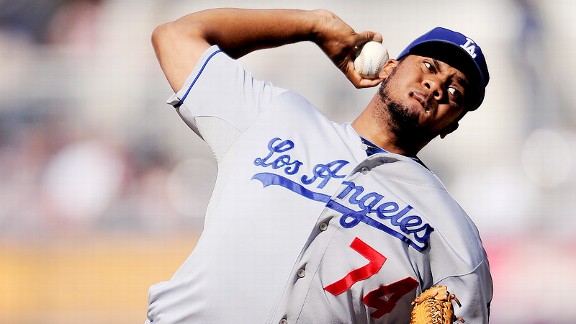 Andy Hayt/Getty Images
Kenley Jansen (37)The setup: The convertee from catchering came to Spring Training with a cornucopia of confidence, following a stunning second-half 2010 debut in which he had a 0.67 ERA and 41 strikeouts in 27 innings against 28 baserunners. With allowances for how inexperienced he was, Dodger fans expected the 23-year-old Jansen to be a major part of the Dodger bullpen in 2011.
The closeup: Cold water was splashed on hopes for Jansen starting with his very first game, when he allowed four runs in his only inning of a 10-0 loss to San Francisco. Later that month, he faced six Atlanta Braves on April 19 and five of them came around to score, leaving Jansen with an 11.42 ERA despite 13 strikeouts in 8 2/3 innings. He was sent to the minors May 1 to work on a secondary pitch, recalled less than a week later when Jonathan Broxton went to the disabled list, then went to the DL himself at the end of May after frustrating manager Don Mattingly by hiding right-shoulder inflammation. Jansen had 35 strikeouts in 21 innings, but he had also allowed 35 baserunners and 15 runs. The season that Hong-Chih Kuo ended up having looked in many ways like the season Jansen was going to have.
And then, insanity.
Jansen returned to active duty June 18. From that moment on – and if you aren't aware of this already, you'd better be sitting down – he faced 120 batters, retired 97 of them and struck out 61. Yes, more than half of all batters Jansen faced after coming of the disabled list took a U-turn back to the dugout. Jansen allowed 12 walks, nine singles, a double and two runs for an opponents' .094 batting average, .192 on-base percentage, .104 slugging percentage, .295 OPS and 0.55 ERA. He inherited 11 runners – none of them scored.
He struck out four batters in 1 2/3 innings against Detroit on June 22, struck out the side at Arizona on July 17 and struck out all four batters he faced against Washington July 22. He was just warming up.
From August 30 through September 27, Jansen faced 54 batters and got 42 of them out, and 34 of those 42 outs were strikeouts. In that stretch, he struck out 63 percent of the batters he faced, and 81 percent of his outs were strikeouts.
The surge helped Jansen set a major-league record: 16.1 strikeouts per nine innings (96 in 53 2/3), to go with a 2.85 ERA while stranding 20 of 21 inherited runners.
These are man-against-boys Little League numbers.
For all of that, Jansen won't win the National League Rookie of the Year Award, for which he is eligible, because of the presence of Atlanta's Craig Kimbrel, who himself averaged 14.8 strikeouts per nine innings and didn't wait until June to become dominant. Jansen might not even appear anywhere in the vote, to be announced Monday, given the competition among rookie pitchers alone.
But man. What a season.
Coming attractions: Jansen, who turned 24 the final day of September, will enter 2012 with even higher expectations than he had this past season. He might not begin the year as the closer – and I very much hope he doesn't, because he can be more valuable if not tied to a specific inning. But you can be sure that right now, he's the most-feared reliever in the Dodger bullpen, and it wouldn't surprise me if he became the most-feared reliever in the NL in 2012.
I mean, what happens if he masters that secondary pitch?