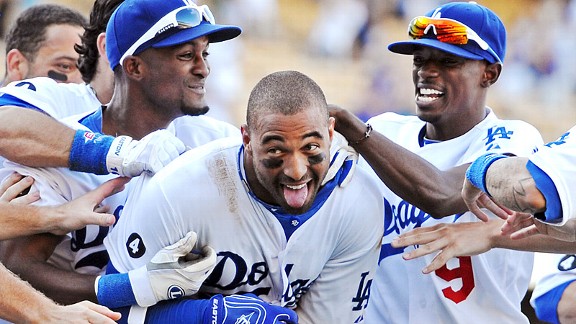 Jayne Kamin-Oncea/US Presswire
Matt Kemp is happy.
Did you feel that earthquake?
An eight-year, $160 million contract is about to be closed between Matt Kemp and the Dodgers, sources indicate, that would give Los Angeles the rights to see him play through the end of the decade. Here's the breaking news story.
And here's some supplemental information I prepared Sunday:
The deal is the largest in franchise history, surpassing the seven-year, $105 million contract pitcher Kevin Brown signed with the team as a free agent in December 1998, and effectively matches Manny Ramirez's deal signed with Boston in 2001 for the seventh-largest contract in total value major-league history. It is the largest contract in ever in the National League, according to Cot's Baseball Contracts.
The 6-foot-3, 215-pounder blossomed in 2011 to nearly snag the NL triple crown while becoming a leading candidate for the National League Most Valuable Player Award with a .399 on-base percentage, .586 slugging percentage and a league-leading 39 home runs, 126 RBI and 115 runs. He also stole 40 bases and 51 attempts and won his second Gold Glove award in the past three seasons. According to Fangraphs.com, he led the NL with 8.7 wins above replacement.
The signing is by far the biggest the Dodgers have made since the ownership crisis that has gripped the team since October 2009 began with the public disclosure of Jamie and Frank McCourt's marital separation. Frank McCourt agreed to sell the Dodgers on Nov. 1, but because new ownership isn't expected to be in place until close to Opening Day at the earliest, there had been speculation that the Dodgers wouldn't be offer a palatable extension to Kemp this winter. Kemp had indicated he would follow the common practice of not negotiating after the regular season began.
However, Kemp's agent Dave Stewart and Dodger general manager Ned Colletti told ESPNLosAngeles.com last week that negotiations had been progressing with regard to Kemp, who would have been eligible for free agency after the 2012 season.
Kemp stood to earn in the neighborhood of $15 million in 2012 with his final year of arbitration eligibility. He just completed a two-year contract that paid him $11 million total. By earning such a large commitment, he adds to the financial burdens of whomever the new Dodger owners will be, but gives them a player they can potentially market around for the remainder of the decade.
A year ago at this time, Kemp was the subject of much angst in Los Angeles after a season in which he hit 28 home runs but had fallen to a .310 on-base percentage and .450 slugging percentage while successfully stealing only 19 bases in 34 attempts (55.8 percent) and suffering through noticeable defensive lapses. Colletti questioned Kemp's effort and performance in an April 2010 radio interview, and in late June 2010, Kemp was pulled from the lineup for three consecutive starts, though he played in each to keep alive a consecutive-game streak that is now the longest one active in MLB at 365 games.
But Kemp and Colletti had a clear-the-air conversation later that summer, and the outfielder, who also began receiving baserunning tutelage from new coach Davey Lopes before the 2011 season began, impressed the Dodgers from the start of the year, when he singled, walked three times and stole a base in an Opening Day victory over San Francisco, to the finish, when he came within one home run of becoming the franchise's first 40-40 man.
He hit a walkoff home run April 17 to beat St. Louis and another four days later to topple Atlanta. On June 4, he hit a solo homer and a grand slam in consecutive innings to help rally the Dodgers from a four-run deficit to victory at Cincinnati. Six days after that, when hamstring tightness forced him to miss his only start of 2011, Kemp came off the bench in the ninth inning and launched a home run that bounced through the concourse behind the left-field seats at Coors Field and into the parking lot, sparking a five-run rally that nearly brought Los Angeles back from a 6-0 deficit.
He reached the 20-20 mark in homers and steals in his 75th game June 21 and started his first NL All-Star Game, where he walked, singled and scored a run. He became a 30-30 man in game 130 on August 26, then hit another walkoff home run in the 11th inning, less than 24 hours later. He finished with eight home runs in September for the Dodgers, whom he led to a 45-28 finish after a 37-51 start, and wasn't eliminated from Triple Crown contention until the season's final five days.
Other than Chad Billingsley, who in March signed a contract extension through the 2014 season, Kemp is the only homegrown Dodger to remain with the team past free-agent eligibility this century. Next in line for such honors would be Cy Young Award candidate Clayton Kershaw, though the 23-year-old can't become a free agent until after the 2014 season.
For comparison, Colorado Rockies shortstop Troy Tulowitzki last December signed a seven-year, $134 million contract extension that runs through the end of the 2020 season.