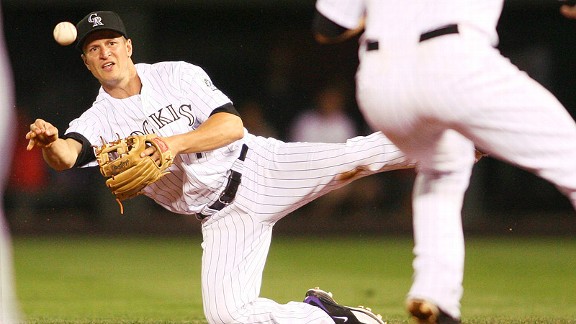 Chris Humphreys/US Presswire
Mark EllisIt's natural to compare infielder Mark Ellis, whom the Dodgers are reportedly about to sign to a two-year contract, to Jamey Carroll, who recently completed a successful two-year contract with the Dodgers and just left to start another with the Twins.
The comparison isn't necessarily a favorable one based on recent performance – Ellis delivered only a .288 on-base percentage and .346 slugging percentage this season despite playing half his year with Colorado, while Carroll was at .359/.347 as a full-season Los Angeles Dodger.
What intrigues me, though, is that if this choice had been offered two years ago, you might have picked Ellis over Carroll, who went .355/.340 with Cleveland in 2009 and was, then as now of course, 3 1/2 years older. Ellis had a .305/.403 mark with Oakland in 2009 – the on-base percentage was weaker, but given the respective ballparks, ages and glove abilities (Ellis has been above average in UZR at second base every year since 2003, according to Fangraphs, and superior to Carroll), you might have predicted that Ellis would have been more productive from 2010-11.
And in fact, as good as Carroll was for the Dodgers in 2010 (.379 OBP, .339 slugging, 100 OPS+, 2.5 WAR), here's what Ellis delivered that same year: .358 OBP, .381 slugging, 103 OPS+, 3.4 WAR. It wasn't until 2011 that Ellis came to appear so much worse than Carroll.
I can't say I paid attention to Ellis this past season, but he'll be 36 when his new contract ends, while Carroll will be on the downward side of 39. If you're asking me today who I think will prove more valuable over that period of time, I think I'm going to lean toward Ellis, even if he's nothing more than an upscale version of Aaron Miles.
Now, we do need to back away and realize that the Dodgers' only choice wasn't Carroll or Ellis. It was Carroll, Ellis or do anything else with the reported $8.75 million the team has committed to Ellis over the two-year stretch. The Dodgers, after all, have apparently committed close to a combined $10 million for each of next two seasons to Ellis and Juan Rivera – add in the more than $6 million that James Loney will earn next year if he remains a Dodger and you start to approach a hefty down payment on the first year of a Prince Fielder contract. The Ellis deal strikes me as one issued by a team that has an overflow of money or an underflow of savvy. I'd also offer that it's another sign that prices this winter are just richer than we expected, period.
For the Dodgers' sake, we'll hope the addition of Ellis to a group that includes Juan Uribe, Dee Gordon and Loney means they'll have one of the rangier defensive infields around. And just for the heck of it, we'll also hope this: Uribe will bounce back from offensive vacuousness to offensive near-adequacy in 2012.
* * *
If I were making out the 2012 batting order today, here's the approach I'd be curious to take.
1) A.J. Ellis, C
2) James Loney, 1B
3) Matt Kemp, CF
4) Andre Ethier, RF
5) Juan Rivera/Jerry Sands, LF
6) Juan Uribe, 3B
7) Mark Ellis, 2B
8) Clayton Kershaw, P
9) Dee Gordon, SS
It's a little ungainly, I admit.
Here's the approach I expect Don Mattingly might take:
1) Dee Gordon, SS
2) Mark Ellis, 2B
3) Matt Kemp, CF
4) Andre Ethier, RF
5) Juan Rivera, LF
6) James Loney, 1B
7) Juan Uribe, 3B
8) A.J. Ellis, C
9) Clayton Kershaw, P