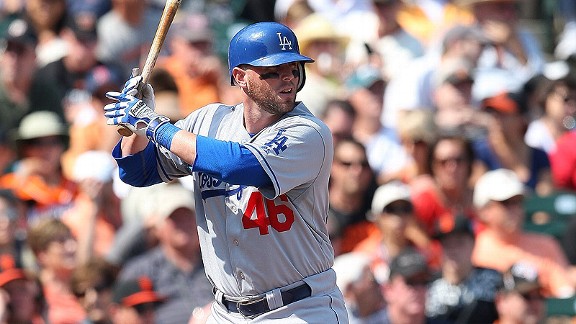 Tony Medina/Getty Images
Russ Mitchell (40)The setup: With a .363 on-base percentage and .535 slugging percentage at Albuquerque in 2010, Mitchell was promoted in September to the Dodgers, for whom he put up this unusual line: 43 plate appearances, 37 outs (including a sacrifice fly), no walks, four singles, two home runs. In fact, his first two major-league hits were homers.
The closeup: Mitchell started 2011 with the Isotopes but came to Los Angeles much more quickly, receiving an April 29 callup when Casey Blake went on the disabled list. Mitchell ended up with two separate one-month stints with the team, each except for walks mirroring what came before. In 58 plate appearances, he made 43 outs with seven walks, five singles, a double and two home runs. His career numbers now total a .208 on-base percentage and .290 slugging percentage with four home runs in 101 plate appearances.
His most dramatic game by far came May 20: Against Sergio Santos, who had a 0.00 ERA in 20 2/3 innings for the White Sox, Mitchell (batting .067) hit a two-out, ninth-inning, game-tying homer that opened the door for the Dodgers to win in extra innings.
When he wasn't with the Dodgers, Mitchell had a .372 on-base percentage and .503 slugging percentage in 392 plate appearances with Albuquerque. In general, his on-base skills showed improvement in 2011.
Mitchell's season ended with wrist surgery on September 27, to address torn cartilage he had been playing with since May. Expected recovery time, according to Ken Gurnick of MLB.com, was up to eight weeks; currently we are at the 7 1/2-week mark. He signed up to play winter ball, with Tiburones de La Guaira in Venezuela, but he has not shown up in the stats yet as having appeared in a game.
Coming attractions: Right now, the Dodgers have seven infielders on their roster and figure to keep six. Mitchell and Justin Sellers would probably be the backups if the season started today, but you can expect increased competition by the time March arrives. There has been talk that Mitchell, who will turn 27 in February, would work on catching to increase his value as an all-purpose backup, but his wrist problem has at a minimum slowed those plans. He has options remaining with the Dodgers, so if he does not hold down a roster spot, he'll return to the Isotopes.