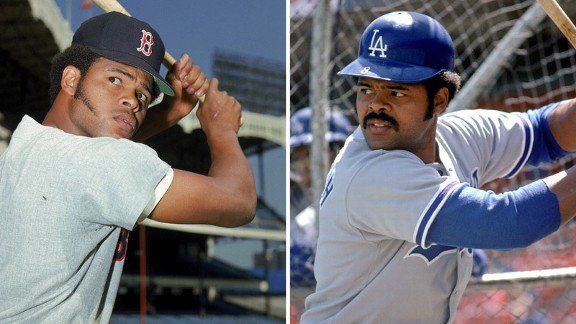 Getty Images
Reggie SmithReading Evan Bladh's recent post on Mike Piazza at Opinion of Kingman's Performance, I got to wondering about the Mike Piazzas of every team in baseball — which players were the most valuable to both the Dodgers and another team.
So I put together this chart of what I thought might be the best. Keep in mind that I tried as hard as possible to avoid technicalities — if the player wasn't significant to both teams, I wasn't interested. So no Duke Snider with the Giants, no Frank Robinson. And managing didn't count, so there's no place for Gil Hodges or Joe Torre.
Let me know what you think — some choices were tough, but with others I might simply have had a blind spot and forgotten about a better option. Philadelphia, Milwaukee, Arizona and Cincinnati were no picnic, to name a few. If you suggest someone in the comments below who is an improvement, I'll make the change.
Update: Changes made below thanks to some great reader suggestions. I took several of them and deliberated others before deciding to stick with what I had.
Here's how my initial selections shape up by position: