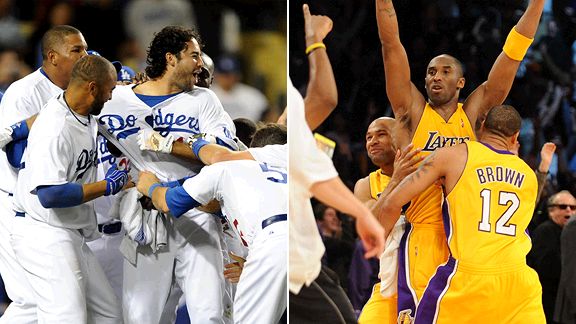 Kirby Lee/Image of Sport-US Presswire, Noah Graham/NBAE via Getty Images
Andre Ethier celebrates his 13th-inning game-winning home run Sept. 15 vs. Pittsburgh, his sixth walkoff hit of 2009; Kobe Bryant revels in the first of his seven 2009-10 game-winners, Dec. 4 vs. Miami.
Which do you prefer?
Andre Ethier played 160 games last year. Plenty of chances to be a game-ending hero, right? There's no clock. He might have more than one chance in a game to be a walkoff wonder. The 0:00 can come when he says so.
But he can't even control whether he'll be able to get anywhere close to the ball in the final moment. He might be five batters away. And if he is up, who knows what kind of pitch he gets to hit? The bigger a threat he seems, the less likely he is going to be given anything to swing at. It's curving away from him at 75 miles per hour; it's trying to blow past him at 95. It's still hitting a small ball with a stick of wood in the most pressure-packed of circumstances.
In a way, it still seems like a fluke – but the job got done and done and done and done and done and done.
Then there's Kobe Bryant, who did it again Tuesday. No problem getting him the ball – it's not like the opponent can intentionally walk him. Everyone knows it's coming to him. But that's the thing – everyone knows. The defense can try to smother him. He can pass it, but except for the occasional Derek Fisher or Robert Horry in his life, so often it seems the other guys don't know what to do with the ball when the clock's ticking down.
There aren't too many layups in baseball, but on the other hand, there's no double- or triple-teaming, either.
In the end, I think there's something more magical about the baseball walkoff hero – and something more real about the basketball walkoff hero.
Either way, what Andre Ethier did last season is amazing. What Kobe Bryant is doing this season is amazing. The ball sailing toward the stands. The ball drilled to the hoop. The trot around the bases. The exultation on the hardwood. The dogpile at home plate. The strut to the locker room.
The crowd going wild. The crowd going wild! Wow and wow.