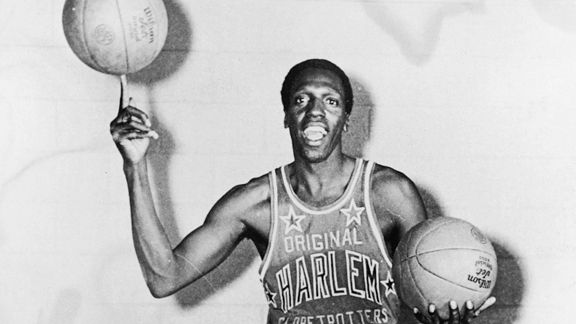 Express Newspapers/Getty Images
Meadowlark LemonSo in the comments this afternoon, I started thinking about what it would be like if the Dodgers made this roadshow they're currently on in Taiwan a permanent thing. I don't mean an overseas trip every year. I mean turning the Dodgers into a modern-day baseball version of the Harlem Globetrotters – the L.A. Dodgers Traveling All-Stars and Motor Kings – crossing the globe on a 200-game roadtrip.
Trayvon Robinson, RF

Jamey Carroll, SS

Manny Ramirez, DH

James Loney, 1B

Ronnie Belliard, 3B

Xavier Paul, CF

Lucas May, C

Michael Restovich, LF

Chin-Lung Hu, 2B

(Josh Towers, P)
Oh sure, the team would never win a World Series again – but on the other hand, they'd really be playing a World Series. Tommy Lasorda managing, Don Rickles as his bench coach, Manny Ramirez signed to a 10-year entertainment services contract that lasts until he's 48, Rickey Henderson brought in as designated runner and team emcee, Clayton Kershaw mixing fastballs with snowballs, Matt Kemp as the next Meadowlark Lemon, James Loney as Curly Neal, Jackie Robinson and Sandy Koufax each taking an inning via hologram, and just when you think they might lose, Andre Ethier ending every night with a walkoff homerun that he hits blindfolded.
A squad of baseball clown evangelists – traveling around the world, raising money and goodwill where it's needed, pocketing it where it's not, each game better than the last. All the team's cares whisked away in a confetti-filled barrel of fun, a pregame "Sweet Georgia Brown" and a 200-0 record.
Yeah, I know: What about real competition? To that I say, don't take me so seriously. Just think about the good times ...