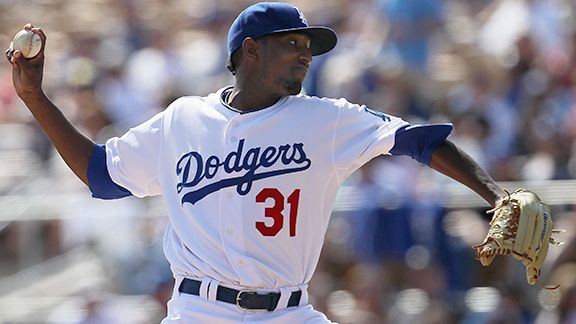 Chris McGrath/Getty Images
James McDonald
This probably won't come as much of a surprise, but Dodger manager Joe Torre told reporters this morning that James McDonald "looks like more of a bullpen guy."
Rafael Furcal, SS

Matt Kemp, CF

Andre Ethier, RF

Manny Ramirez, DH

James Loney, 1B

Casey Blake, 3B

Garret Anderson, LF

Blake DeWitt, 2B

A.J. Ellis, C

(Russ Ortiz, P)
I don't know yet if Torre means that about McDonald in April, or forever. But you get the sense that we'll see McDonald limited to shorter stints in the near future at least, and that he won't be starting the year in the Albuquerque rotation with Scott Elbert.
No longterm decision on McDonald should be based on the first two weeks of Spring Training games, or for that matter his four career major-league starts. But you start to wonder if the Long Beach native will ever get a full opportunity to prove himself as a starter, or whether, like Jonathan Broxton (who was a very effective starting pitcher over 50 games in the minors), it has simply been decided that McDonald's skill set doesn't translate into a big-league rotation.
* * *