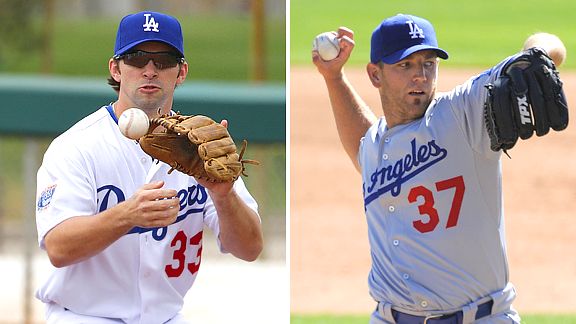 Mark Duncan/AP, Ron Vesely/MLB Photos via Getty Images
Blake DeWitt and Charlie Haeger combined to appear in 37 games for the 2009 Dodgers.
Rafael Furcal, SS

Matt Kemp, CF

Andre Ethier, RF

Manny Ramirez, LF

James Loney, 1B

Casey Blake, 3B

Garret Anderson, DH

Russell Martin, C

Blake DeWitt, 2B

(Charlie Haeger, P)
The Dodgers just broke bottles of champagne on the broadsides of Blake DeWitt and Charlie Haeger, with Joe Torre officially announcing they have been named the team's starting second baseman and No. 5 starting pitcher.
"Blake DeWitt is our second baseman," Torre told reporters before tonight's exhibition. "Over the long haul, DeWitt needs to play everyday. Belliard and Carroll can play against left-handers ... so we have flexibility. If someone gets hot, we'll find a spot for them.
"We initially pulled the April Fools' Day prank on Blake. We told him he was going down, but we didn't keep him there long. He was joyed, relieved. That's as emotional as I've seen him in a long time.
"Haeger will be our fifth starter. He can pitch out of the bullpen before that. His versatility is a plus. We'll give him a shot."
The Dodgers sent Josh Towers to Albuquerque, but as of this writing didn't confirm what the back of the bullpen will look like.
The question is, did Torre and the Dodgers wait until today to give DeWitt the job just so they could do the April Fools' Day gag? Maybe the Jamey Carroll and Ronnie Belliard signings were done just to beef up the joke!