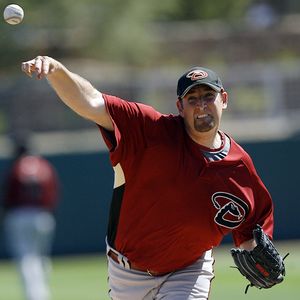 San Gabriel Valley News/Zuma Press/Icon SMI
The entire 2009 season for Brandon Webb (seen here at Camelback Ranch last March) consisted of four innings pitched and six runs allowed April 6.
Brandon Webb's 2010 is starting to look more and more like Jason Schmidt's 2008 or 2009.
Jack Magruder of FoxSportsArizona.com reports that Webb isn't expected back from his 2009 surgery until at least May, and that it wouldn't be surprising if he were still recovering into August.
Because they don't need a fifth starter until April 17, the Diamondbacks will open the season with four.
More National League injury woes: Joe Blanton, Brad Lidge and J.C. Romero will all begin the 2010 season on the disabled list.
* * *