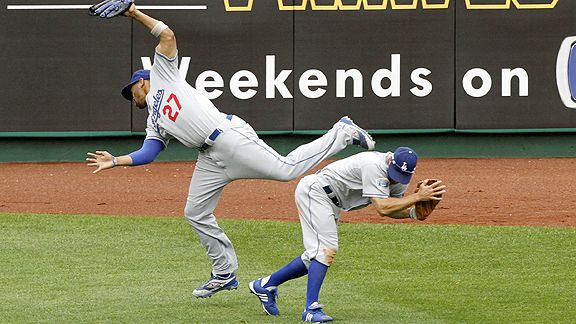 Keith Srakocic/AP
Already down an outfielder with Andre Ethier nursing a sore ankle, the Dodgers nearly lost two more when Matt Kemp and Reed Johnson tangled in the sixth inning of their 10-2 victory.
Tony Jackson's game recap and notebook.
The Chad Billingsley that half of us love and the other half forgot about came out firing today, with a first-pitch out and seven strikeouts among 24 batters. The Chad Billingsley that half of us think is temporary and the other half hate also came out, walking four batters and failing to make it through the sixth inning.
So Billingsley's 5 1/3-inning, one-run outing in the Dodgers' 10-2 victory didn't resolve the Billingsley debate one way or another – not that one game could. But it turned the page on the second half of 2009, allowing people to begin looking forward instead of back.
On the radio, Dodger announcers Charley Steiner and Rick Monday so persistently hammered home a point that Billingsley's fate depended on where he planted his foot on his follow-through, that you could be excused for forgetting that Billingsley's mental toughness had ever been questioned. This was a pure mechanics issue – if the brain was involved, it was only out of the need to provide consistency, not courage. I don't quite believe that the solution to Billingsley's problems is that simple – I'm not saying that Steiner and Monday believe that either – but it does remind you that there's a lot more going on with Billingsley than what's between the ears. (Steiner and Monday also commented that Billingsley reduced his pregame warmup time compared to last year.)
Meanwhile, the Dodgers' misanthropic five-reserve lineup turned expectations upside down by just hammering the ball, with the top six hitters in the batting order – three of them reserves – each reaching base at least two times, and Ronnie Belliard coming within a single of hitting for the cycle 360 days after Orlando Hudson did. More monkeys were kicked off more backs today than in Curious George's worst nightmare.
Footnote: Carlos Monasterios gave up the first run of his two-inning major-league career, while Jonathan Broxton's first outing of the season came in garbage time.
* * *