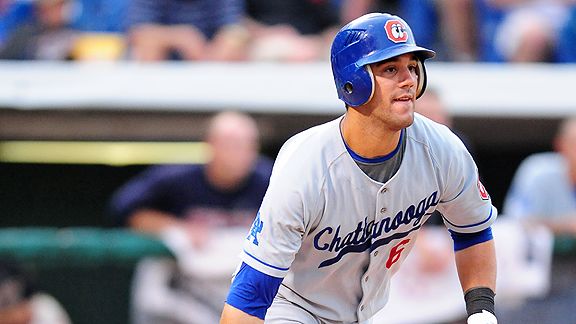 Los Angeles Dodgers
Andrew Lambo, shown here with Chattanooga in 2009, has been considered a potential starting Dodger left-fielder by 2012.
Carlos the spackle
Reed Johnson, LF

Russell Martin, C

Andre Ethier, RF

Matt Kemp, CF

James Loney, 1B

Casey Blake, 3B

Blake DeWitt, 2B

Jamey Carroll, SS

Carlos Monasterios, P
Andrew Lambo, ranked No. 3 among Dodger prospects in the 2010 Maple Street Press Dodger annual, was suspended for 50 games for violating the Minor League Drug Prevention and Treatment Program. The violation was for a second positive test for a "drug of abuse," rather than a performance-enhancing substance, according to Tony Jackson of ESPNLosAngeles.com, who adds more details.
Lambo, a 21-year-old in his second season playing for AA Chatanooga this year, had an on-base percentage of .390 and slugging percentage of .566 (the latter fifth-best in the Southern League). He transferred from Reseda's Cleveland High School to Newbury Park High School because of a marijuana-related incident.
Jackson also has other notes about the team here.
* * *
I'm just getting back into the swing of things after my anniversary sojourn. Tonight's game is basically all hands on deck for the bullpen, started by reliever Carlos Monasterios. Ramon Ortiz figures to get some action assuming Monasterios doesn't last five innings, although Charlie Haeger, whose Dodger future is an open question and whose next start has not been officially scheduled, could also get a call before the front end of the relief corps gets into it. It would be nice if Dodger manager Joe Torre was willing to use a key reliever early in the game, if necessary, to keep it close.
It's an interesting test for Monasterios, but Dodger fans do need to keep expectations in line. (After the past week, I suspect that won't be a problem.)
As for who starts in Vicente Padilla's place next, James McDonald made a push after returning from the broken-fingernail disabled list with five no-hit innings (two walks, five strikeouts) against Round Rock on Friday. Keep in mind that the Express are among the poorer-hitting Pacific Coast League teams.