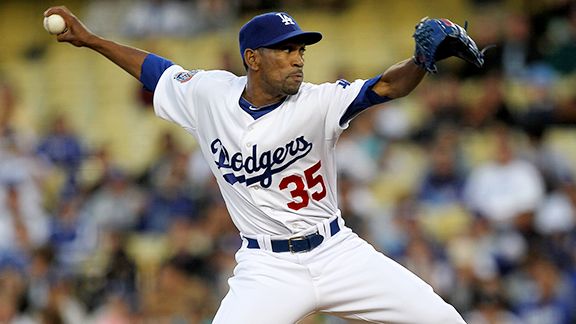 Stephen Dunn/Getty Images
Ramon Ortiz's last major-league start was in 2007.
Same lineup for third straight day
Dodgers at Diamondbacks, 6:40 p.m.
Russell Martin, C

Matt Kemp, CF

Andre Ethier, RF

Manny Ramirez, LF

James Loney, 1B

Casey Blake, 3B

Blake DeWitt, 2B

Jamey Carroll, SS

Chad Billingsley, P
Joe Torre told reporters tonight that as of this moment, he plans to start Ramon Ortiz on Friday instead of taking advantage of Thursday's off day to skip the No. 5 spot in the rotation. Torre wants Clayton Kershaw and Chad Billingsley to get the extra day of rest.
Ortiz has a 5.24 ERA in 22 1/3 innings with 31 baserunners allowed (including four home runs) against 16 strikeouts. In relief against Colorado on Saturday, he was charged with two runs on eight baserunners in five innings. He'd be taking the mound next in pitching-friendly San Diego.
Torre indicated that he expects John Ely to stick around for a while, that this second callup isn't a one-time thing. A start Friday by Ortiz would bump Ely's next outing from San Diego to Monday in Houston.
Torre also said that Charlie Haeger's heel has been bothering him and that he wasn't letting on about it. If Haeger's injury isn't invented and he really has been pitching hurt, well, you know, that was really irresponsible of him.