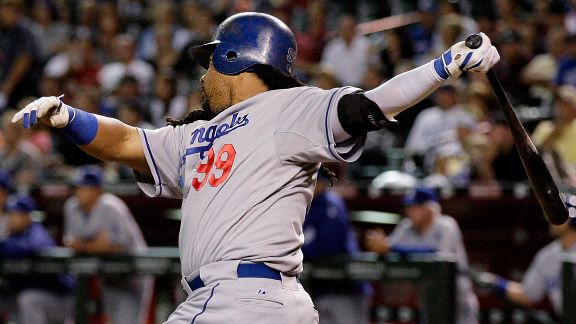 Ross D. Franklin/AP
Manny Ramirez follows through, literally and figuratively.A year ago, Andre Ethier was being told he couldn't hit at all unless Manny Ramirez was batting behind him.
Tonight, the Arizona Diamondbacks told Ethier that they were so scared of how well he can hit, they'd rather face Ramirez.
It was an awe-wow moment that punctuated the Dodgers' 6-3 victory over Arizona Wednesday, yet not at all shocking considering Ethier's unbelievable season – and it was hardly a slight against Ramirez, who brought a 1.064 OPS for 2010 into the at-bat. But with runners on second and third with two out in the top of the seventh inning, and the Dodgers leading 3-2, Diamondbacks pitcher Edwin Jackson simply didn't feel he could mess around with Ethier, who boosted his Triple Crown numbers earlier in the game with a two-run homer.
The logic was simple: Walking the left-handed Ethier eliminated the platoon advantage for the Dodgers and created a force at every base for Ramirez, who turns 38 at the end of the month. But still, here it was, the bases being loaded on purpose for one of baseball's most dangerous hitters (still) – only because the Dodgers have come up with a player 10 years younger and even more dangerous.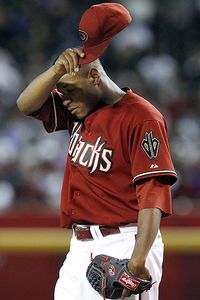 Ross D. Franklin/AP
Edwin Jackson wipes his forehead after loading the bases ahead of Manny Ramirez in the seventh inning.
Jackson shouldn't have even been in the situation. He had pitched well overall, allowing three runs on nine baserunners in 6 2/3 innings and striking out eight before the intentional walk. He had already thrown 114 pitches when Ethier came up. But the Arizona bullpen has been such dogmeat that Diamondbacks manager A.J. Hinch decided he didn't have a better hope against Ramirez with the bases loaded than the gassed Jackson.
Ramirez fouled off two pitches to fall behind 0-2 in the count, but on the next pitch, he cannoned a ball high off the center-field wall, 407 feet away, easily a grand slam in Dodger Stadium but a mere three-run double tonight. The smash blasted Jackson's valiant effort into ruins, and gave the Dodgers a most exuberant and comfortable four-run lead.
The moment stole the spotlight from what I think we can call a vintage Hiroki Kuroda performance. Kuroda's first four pitches of the game were low and outside, but he didn't walk a man after that in 7 1/3 innings, while allowing three runs on six hits and striking out nine. The third run – the run that would have tied the game were it not for Ethier and Ramirez – came across on a sacrifice fly off Hong-Chih Kuo in the eighth, after walks by Ronald Belsiario and Kuo loaded the bases and brought the tying run to the plate. But nothing more came across.
Jonathan Broxton, who hadn't been needed in the series up to now, fell short of a 1-2-3 inning for the sixth time in his past seven chances but got the save, interspersing a single and walk with three strikeouts, giving him 22 in 12 2/3 innings this year.
The Dodgers won their ninth in their past 12 games, reached the .500 mark (17-17) for the first time since they were 7-7 on April 21 and moved within two games of second-place San Francisco. And another threshold in Andre Ethier's mammoth season was crossed.