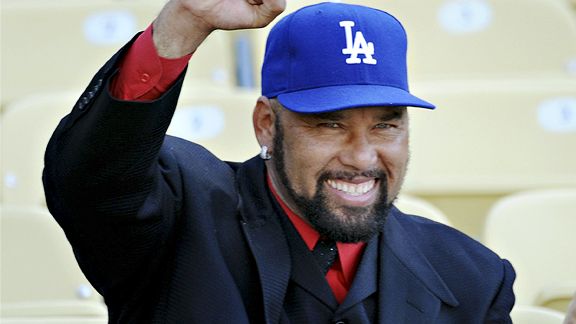 Jon SooHoo/Los Angeles Dodgers
Jose Lima received an ovation from Dodger Stadium fans at Friday's game.One of the things I'll remember most about Jose Lima is his unspoken farewell to the Dodgers.
That shutout he pitched against St. Louis in the 2004 playoffs, that unbelievable, electric night, was also the last game Lima pitched for the Dodgers. Lima had come to the Dodgers with a contract of one year and expectations of about zero. The year before, he had pitched 73 1/3 innings for Kansas City with a 4.91 ERA and all of 32 strikeouts. The year before that, with Detroit, Lima's ERA was 7.77.
Lima only found his way onto the Dodger roster the way fringe players often do, thanks in part to the misfortune of others. If Paul Shuey hadn't ruptured a tendon in his thumb at the end of March 2004, Dodger fans might never have heard of "Lima Time."
It was almost as much of a miracle that Lima stayed on the roster. His ERA on May 9, after nine appearances, was 7.91. Whatever people feel today about Ramon Ortiz (who is only six months younger than Lima), that's about what they felt about Lima six years ago this month.
But then Lima began having those "Lima Time" moments. He didn't allow an earned run for a month, including 5 2/3 innings of shutout ball in relief against the Cubs and eight innings of in a start against Arizona. And although bad outings would crop up here and there, he became something of an unlikely hero. His personality – which alienated some of us when he pitched for other teams – became something you couldn't get enough of. You just looked forward to seeing him on the mound, even if the results were unpredictable.
All this led to the pinnacle of his time in a Dodger uniform, that October night against the Cardinals, the crowd mad with delight, Lima genuflecting after the final out.
The Dodger offseason began about 24 hours later, after the team lost the third of four playoff games to St. Louis. Not surprisingly, the popular feeling in town was that the Dodgers had to bring Lima back – how could they not? But if you looked closely at the situation, you sadly realized that it was almost inevitable that Lima would not return. Based on the rules that existed at the time, the Dodgers were actually operating at a disadvantage compared with the other 29 teams in baseball in that they had to offer him salary arbitration or forfeit the right to negotiate with him on the open market. Essentially, the system at the time required the Dodgers pay Lima more than any other team had to. And given that Lima's performance was so fluky, it just didn't make sense for them to do so.
Lima signed a $2.5 million contract with Kansas City at Christmas, and the following year, his ERA soared to 6.99. After four more appearances with the Mets in 2006, Lima was out of the majors for good, at age 33.
It's heartbreaking that a man with so much life left this world, just as he left the majors, so quickly. And it's heartbreaking that it happened just as Los Angeles was about to spend more time with him – Lima, according to the Dodgers, had just become a member of the Dodger Alumni Association and was preparing make community appearances as well as open a youth baseball academy this summer in Los Angeles.
Our time to enjoy Jose Lima, from the start, was fleeting. Fundamentally so. There were few better to remind us to appreciate the moment while we can. For me, Jose Lima will always be one of the most important Dodgers in that respect – an infinite reminder of the finite, a beacon for savoring the precious.
* * *
Others remembrances of Lima: