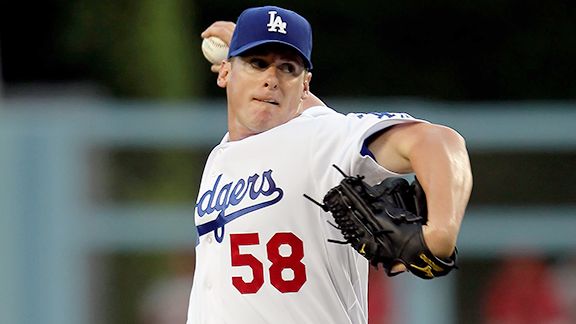 Jeff Gross/Getty Images
Chad Billingsley
Rafael Furcal, SS

Russell Martin, C

Andre Ethier, RF

Manny Ramirez, LF

James Loney, 1B

Matt Kemp, CF

Casey Blake, 3B

Blake DeWitt, 2B

Hiroki Kuroda, P
Well, now that changes everything.
The Dodgers announced this afternoon that Chad Billingsley would go on the 15-day disabled list with a groin strain. Tony Jackson of ESPNLosAngeles.com has details. I'll update this post with the news of who is being added to the roster as soon as I hear.
Billingsley was scheduled to start for the Dodgers on Thursday. John Ely could make that start on four days' rest, with Vicente Padilla then being activated to pitch Friday in Boston. Charlie Haeger, by the way, is scheduled to pitch for Albuquerque tonight.
Kinda amusing to think of what would happen if Padilla and Haeger aren't ready to go by Saturday. With James McDonald and Scott Elbert out, do we start talking about guys like Seth Etherton? Alberto Bastardo? Or do the Dodgers call up another reliever and give Jeff Weaver a spot start?
The road just got a little rougher.
* * *
In other malady news, another celebration yielded a big injury. UCLA's No. 3 hitter, Tyler Rahmatulla, broke his wrist in the dogpile celebrating the Bruins' advance to the College World Series.
* * *
Update: Joe Torre told reporters that Padilla is ready to go and will be activated. Ely starts Thursday, Carlos Monasterios on Friday, Padilla on Saturday and then back to Hiroki Kuroda on Sunday before Monday's off day. Torre said Padilla is ready to throw 100 pitches.
Billingsley strained his right groin in the last inning of his last start, the Dodgers said. An MRI showed no structural damage. The team wasn't expecting him to miss any time, but he felt tightness during his latest bullpen workout at the very end on his pushoff leg, and the Dodgers didn't want that to mess up his mechanics.