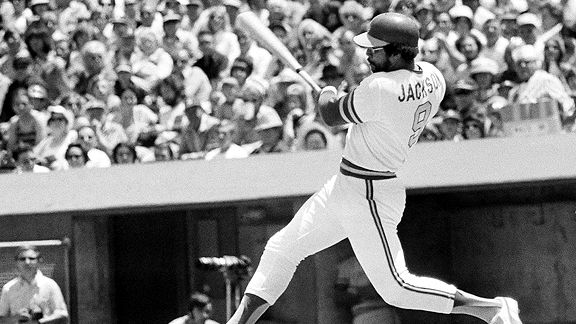 AP
Reggie Jackson played in five consecutive All-Star Games from 1971-75 and 14 in his career.In 1973, Reggie Jackson won the American League Most Valuable Player Award. In 1974, he finished fourth in the voting (in a year he had a .391 on-base percentage, .514 slugging percentage and a league high 20 intentional walks and 166 adjusted OPS).
In 1975, two years before he would begin tormenting Los Angeles in consecutive World Series, Reggie Jackson almost became a Dodger.
That's the tale that comes out of Dayn Perry's new book, "Reggie Jackson." In the winter before the '75 season, the future Yankee by way of Baltimore first tried to engineer a deal to Los Angeles.
... Finley presented Reggie with a contract for 1975 that would pay him precisely what he made in 1974. Reggie told the media that his contract offer was "too depressing" to discuss.

He called Finley and asked to be traded. "If I can sell yhou for two million dollars," Finley said, "I might not give you some of the money, but I'd at least send you a box of candy."

Reggie, stunned that Finley might trade him, went to Hawaii to fulfill his duties as host of the "Team Superstars" television show. There he met with Dodgers executive Al Campanis. Reggie told him he could be a Dodger if they met Finley's asking price of $2 million. Campanis said it was a posssibility. Reggie then phoned Finley and told him the Dodgers were interested. "I can't play money," the owner said. "He explained to Reggie that unless he received a king's ransom in talent, he couldn't trade his best player and still manage to sell tickets. Parting with one of baseball's biggest tars in a cash grab simply wouldn't play with the fans. Reggie knew that, but he also knew what Finley had told him earlier. Reggie called him a liar and hung up. ...

Then the story that Reggie had attempted to engineer a trade to the Dodgers made the rounds in the Oakland press. Finley confirmed the rumor and said that he'd been shocked by Reggie's actions. He didn't mention that he had given Reggie permission to seek out a deal, and he didn't mention that he had discussed trading Reggie to the Philllies, Indians, Yankees, and Orioles, among other teams. When Reggie learned of Finley's lies, he called the Oakland beat writers and told them that Finley was willing to sell him for $2 million. They went back and confronted Finley with Reggie's version of events. He laughed it off. "The Oakland fans would run me out on a rail," Finley said.

Shortly thereafter, Finley defeated Reggie in their arbitration hearing in Los Angeles. Reggie had oped to make $200,000 for 1975, but the arbitrator chose Finley's figure of $140,000. Freshly embittered, Reggie went back to Arizona for Spring Training.
Having not come up with the ability to complete the trade, the Dodgers went with Willie Crawford in right field in 1975, then acquired Reggie Smith in place of Joe Ferguson and others in June 1976.
In 1975, Jackson's final season with Oakland, he led the league with 36 home runs, in what was otherwise an off year for him. He left as a free agent, while Finley would later run afoul of baseball commissioner Bowie Kuhn by trying to sell other star players like Joe Rudi, Rollie Fingers and Vida Blue.
Two seasons later, Jackson was a Yankee, and you know what happened next. Seven home runs in the 1977-78 World Series, three in one game, along with one stray hip.
But the Dodgers did have that one moment of pure wonderfulness against Jackson. Here's how I described it in "100 Things Dodgers Fans Should Know & Do Before They Die":
Perhaps even more than the pitch, people remember the reaction: Reggie Jackson detorquing himself from a swing that almost corkscrewed him into the ground, grabbing his bat high on the barrel and violently thundering a furious curse.

David slew Goliath. Jack brought down the Giant. And Bob Welch, all 21 babyfaced years of him, struck out the Bronx Bomber on a 3-2 pitch in the ninth inning to save Game 2 of the 1978 World Series and bring on a deafening roar at Dodger Stadium.

The day the Series opened, rumors were spreading that fireballing Dodger rookie Welch had an arm problem. Nonsense, insisted Tommy Lasorda. "Bob had a soreness in his side, down along his rib cage," he told Scott Ostler of the Los Angeles Times. "Our trainer said he's fine."

AP

Steve Yeager raises his fist after Bob Welch strikes out Reggie Jackson with two runners on base to end Game 2 of the '78 Series.

Apparently. Clinging to a 4-3 lead in the top of the ninth, the Dodgers sent out Terry Forster for his third inning of work. Yankee playoff hero Bucky Dent opened the inning with a single to left field and moved to second on a groundout. A walk to Paul Blair put the go-ahead run on base, signaling that Forster had passed his expiration date.

Lasorda's do-or-die replacement had 24 career appearances, 11 in relief. The two batters he needed to get out, Thurman Munson and Jackson, had 465 career home runs – three of them hit by Jackson in the last game of the previous year's World Series. Dodger fans at the stadium and across the country waited for the roof to cave in.

Welch fed a strike in against Munson, who hit a sinking drive to right field that Reggie Smith caught at his knees.

It was Jackson time. This wasn't just any slugger. This was the enemy personified, a man, though well-liked in his later years, considered perhaps the most egotistical, vilifiable ballplayer in the game.

Welch began by inducing Jackson to overswing and miss. With Drysdalesque flair, he then sent in a high, tight fastball that sent Jackson spinning into the dirt.

Jackson later told Earl Gustkey of the Times that he was expecting Welch to mix in some of his good offspeed pitches, but instead came three fastballs, each of which were fouled off. Then there was a waste fastball high and outside to even the count at 2-2.

After another foul ball, another high and outside fastball brought a full count. The runners would be moving. Short of another foul, this would be it.

As everyone inhaled, in came the heat. Amped up, Jackson swung for the fences – not the Dodger Stadium fences, but the fences all the way back in New York.

Only after Jackson missed the ball and nearly wrapped the bat around himself like a golf club, only through Jackson's rage, could Dodger fans begin to comprehend what happened.

Jackson carried his fury into the dugout and clubhouse with him, pushing first a fan on his way to the dugout and then Yankee manager Bob Lemon once inside.

The only thing that could have made the event better for Dodger fans would have been for them to have had longer to enjoy it. The Dodgers didn't win the World Series that year; they didn't win another game. Welch himself was the losing pitcher in Game 4, allowing a two-out, 10th-inning run in his third inning of work, and gave up a homer to Jackson in Game 6. But for a moment, the Dodgers and their fans enjoyed one of the most triumphant and exhilarating victories over the Yankees ever imaginable.
If, after revisiting those World Series memories, the thought of Reggie Jackson as a Dodger is still unimaginable, consider the event that took place hours before the Welch-Jackson strikeout. Here's an excerpt from my chapter on Jim Gilliam, the longtime Dodger who is the only member of the organization to have his number retired without reaching baseball's Hall of Fame:
On the afternoon of October 11, with Game 2's first pitch hours away, baseball paused and gathered at Trinity Baptist Church to pay their respects – 2,000 strong – at Gilliam's funeral. A memorable photo from that day shows Dodger tormentor Reggie Jackson of the Yankees standing solemnly between Lopes and Tommy Lasorda. All three delivered eulogies.