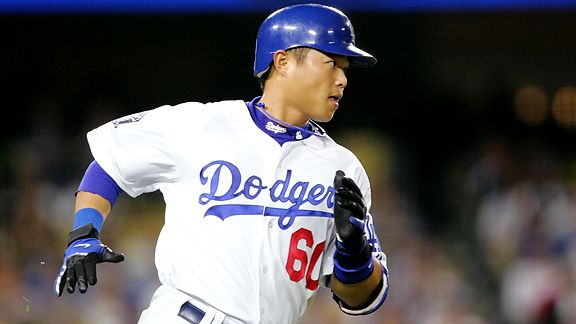 Gary A. Vasquez/US Presswire
Chin-Lung Hu (shown here in 2008) slugged .507 in June.Chin-Lung Hu is trying a bit too hard to be like Chase Utley.
Hu had surgery on an injured thumb and is expected to be out six to eight weeks, reports Christopher Jackson of Albuquerque Baseball Examiner.
James McDonald would have gone past four innings Thursday, but he was hit on the left knee by a comebacker and was taken out of the game for precautionary reasons.
Cory Wade, outrighted to Albuquerque on Thursday, pitched a scoreless fifth to get the win. Josh Lindblom and Travis Schlichting each allowed runs in their relief outings.
Tim Wallach talked to Jackson about the 53 transactions the Isotopes made in June, believed to be a team record: "It's kind of what Triple-A is," he said. "If we're not moving guys up then we're not doing our job, so that's a good thing. Certainly guys are trying to get to know each other, I'm trying to get to know them, but it's part of the deal. It's good experience for not only the players but for us as a staff, too. You've got different personalities coming in and out all the time no matter where you're at. I don't look at it as tough."
* * *
Dodger farm teams Chattanooga and Ogden each played 15-inning games Thursday.
The highlight for the Lookouts was Kenley Jansen striking out six batters in two innings. Chattanooga starting pitcher Aaron Miller allowed one run in five innings and had five of the Lookouts' 17 strikeouts. Chattanooga scored three in the 15th to win, 4-1. Dee Gordon was 0 for 6 with a walk, Jerry Sands was 0 for 6 with three strikeouts and Andrew Lambo was 0 for 7.
Ogden also won, 5-4, on an RBI single by Chris Henderson (3 for 7), driving in Jesse Bosnik (2 for 4 with three walks).
* * *
Great Lakes righty Elisaul Pimentel, who turns 22 a week from Saturday, allowed more earned runs Thursday (five in six innings) than he had in his previous eight starts combined, in which his ERA was 1.00. But the Loons won, 7-6.
Phil Gurnee of True Blue L.A. posted a lengthy interview with Great Lakes beat writer Hugh Bernreuter of the Saginaw News. And don't miss the latest Dodger prospect rankings from Chad Moriyama of Memories of Kevin Malone. Chris Withrow remains No. 1, but Jansen and Sands made huge leaps into the top five.
* * *
Dylan Hernandez of the Times has more details on the incident that apparently got Matt Kemp benched: a spat with coach Bob Schaefer. Kemp has reportedly not been backing up second base on basestealer throws by Russell Martin. Hernandez says Kemp has denied having "a confrontation" with the Dodger coaching staff, but I think that must be a semantics issue or just a cover.
Hernandez also today had a very nice feature on Hiroki Kuroda, who seems more haunted when he's not pitching by the line drive that hit him in the head last year.
* * *
Arizona Republic writer Nick Piecoro on the Diamondbacks' new manager: "I'm curious to see how interim manager Kirk Gibson settles into this role. I find the public perception of him to be wildly different from the way he actually is. It seems like everyone expects some kind of drill sergeant to come in and whip everyone into shape, a guy who'll have smoke shooting from his ears on every bad call. Who knows, maybe that's what he'll be like, but that's not what he's been like in his time as the bench coach. He's more of a goofy guy, someone the players monkey around with in the clubhouse, a guy who's always keeping them loose. Maybe being the guy in charge will bring that drill sergeant out of him. We shall see."