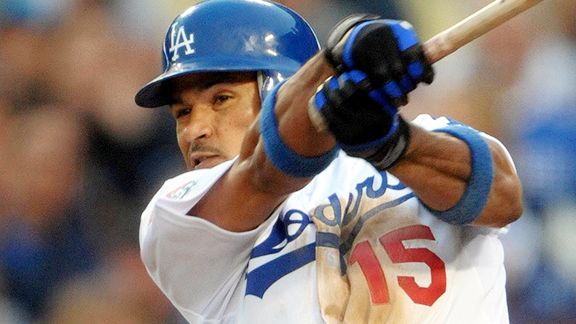 Kirby Lee/Image of Sport/US Presswire
Rafael Furcal has reached base 35 times in his last 15 games.
At the start of this season, I had practically given up on Rafael Furcal.
Last year was limp, and his brief fireworks in 2008 looked like the death throes of a player just before his back was hijacked by the devil. He seemed, to adapt one of the most malleable and miserable of baseball cliches, an old 32.
Maybe in an honest attempt to be objective, maybe in an attempt to be too clever, I picked Furcal as the Dodgers' hidden weak link. While everyone else was worried about the starting pitching or Manny Ramirez, I was the one who so smartly pointed out that the Dodgers had a fizzler as the backbone of their infield.
Turns out, that fizzler has been the most valuable shortstop in major league baseball -- All-Star snub be damned -- according to Fangraphs.
That Furcal has made me look so wrong is wonderful. That he has done it in a year of personal tragedy is wondrous. How did he go back to work so quickly after his father died? And how did he go back so well?
Furcal is a player of tremendous ability -- he quite possibly will leave the Dodgers at the end of 2011 as the greatest-hitting shortstop in their long history -- and, if it may still be said, somewhat maddening inconsistency. At times like these, with a .443 on-base percentage and .667 slugging percentage since June 4, he is arguably the best player in the game, punctuated by the spring in his defensive step. But even this year, Furcal has had his struggles. Thanks to more injuries and more ill production, Furcal reached base only 13 times compared with 11 strikeouts over a six-week span from April 22 through June 3. To put it in the best possible light, Furcal has an uncanny ability to remind you that he is all too human.
He's one of us. Until he's not.
Furcal will cool off again, maybe starting tonight. And one of these days, months or years, he won't heat back up again. After all, he's an old 32, right? But someday, after it's all over, I hope I remember these inspiring weeks, when Furcal not only found life worth living in a dark hour, he made it that much more rewarding for the rest of us.