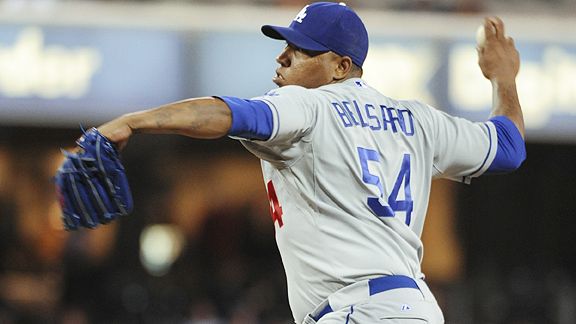 Scott Wachter/Icon SMI
Ronald Belisario: 2.04 ERA in 2009, 5.32 ERA in 2010.
It wasn't even a headline. It was just a little item in Tony Jackson's Dodger notebook from the earliest days of Spring Training, appearing below the day's top news: "Blake shaves signature beard."
Dodgers reliever Ronald Belisario will be late to spring training for the second season in a row because of visa problems in his native Venezuela ...
There was no indication of how late Belisario would be, or much reason to think it would affect his 2010 season. And it was but one pitcher in a deep Dodger bullpen, one of the best in baseball the previous year.
The Dodgers had other things to worry about. Who would be their fifth starter? What condition would Manny Ramirez be in? Would Russell Martin and Chad Billingsley come back from disappointment? How would the ownership strife affect the team? So Belisario's going to be a little late. So what?
But as it turned out, Belisario's visa problem, which was never completely explained, was a pinprick in the Dodger life-raft. The other concerns didn't completely go away, but strangely, it was with Belisario's absence that the air slowly began leaking out of the 2010 Dodger season.
Without Belisario, the Dodgers weren't as prepared for George Sherrill to misplace his mechanics or for Hong-Chih Kuo to begin the season with soreness in his left elbow. It put an extra strain on second-year reliever Ramon Troncoso, and compelled the Dodgers to keep both Russ and Ramon Ortiz on their Opening Day roster. Four times in the team's first eight games, Dodger relievers ended up with an L next to their names in the box score. In a year that begin with promise but also uncertainty, the Dodger bullpen was supposed to be the anchor of the two-time defending National League West champions. Instead, it was the first sign of the unraveling.
And as it turned out, there was plenty to unravel. Among the many other fraying threads of a year gone awry were these:
Garret Anderson: Remember when Brian Giles and Doug Mientkiewicz were competing for the role of top left-handed pinch-hitter? Each came with health concerns, so come March, the Dodgers decided to take a look at Anderson, perhaps the most costly look since Lot's wife checked her rear-view mirror. Anderson had the lowest adjusted OPS (29) of any Dodger with at least 150 plate appearances since Maury Wills in 1972 and second-lowest of any grown man in a Dodger uniform in 99 years.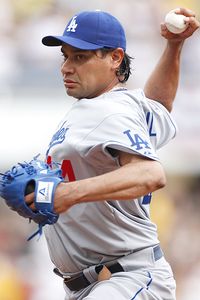 Gregory Shamus/Getty Images
The Dodgers got about six productive weeks out of Vicente Padilla in 2010.
Sour start: Inviting speculation that he was implicitly criticizing the state of the team's pitching, Joe Torre passed over Hiroki Kuroda to give the first pitch of the season to Vicente Padilla. The Dodgers subsequently began the season on a grim note, with Pittsburgh's Garret Jones homering in his first two at-bats against Padilla en-route to an 11-5 pounding of the Dodgers. Pittsburgh began the season 2-0 over Los Angeles; the Pirates are 45-92 since.
Bullpen bottoms out early: Torre used Jonathan Broxton in the ninth inning of the Dodgers' third and fourth games of the season, with leads of eight and six runs. In the fifth game of the season, Troncoso and Sherrill were asked to protect a two-run lead in the ninth, and failed. This, as it turned out, was not an aberration.
Death to flying things: Seemingly quelling fears about the back of the Dodger starting rotation, Charlie Haeger struck out 12 in six innings during his first start of the season. But one out before Haeger's outing was over, Matt Kemp bobbled and dropped a fly ball, leading to an unearned run that cut the Dodgers' lead to 5-4 and setting in motion a season Kemp is already trying to forget. Jeff Weaver gave up two more runs in the seventh inning, and the Dodgers came home from their first road trip of the season 2-4.
Manny needing medical: With a .500 on-base percentage and .619 slugging percentage, Ramirez heads to the disabled list for the first of three times in 2010 with a right calf strain. In the 13 games he had played to that point, the Dodgers had scored 93 runs.
Many needing medical: A day later, the struggling Padilla went on the DL. A week later, it was Rafael Furcal. Haeger, in something of a mercy killing, landed on injured reserve following his eight-strike, five-run start against Colorado. And then just after Ramirez returned, a broken pinky sidelined Andre Ethier and halted his MVP-caliber start to the season.
Lima's time: It had no bearing on the Dodgers' playoff hopes, but the passing of Jose Lima can't go unremarked upon when talking about things gone wrong.
Elbert's Elba: Scott Elbert, the Dodgers' top pitching prospect at the start of the year, gets called up, walks three in two-thirds of an inning, and isn't heard from again.
Broxton's season turns: With the Dodgers continuing to ache for reliable setup men, the All-Star closer's season 180s with a 48-pitch nightmare against the Yankees.
Another Belisario mystery: Just when he had righted himself on the field, Belisario disappears to the restricted list for a month.
The end of Elymania: The shot in the arm provided by rookie John Ely ricochets on the Dodgers when he posts a 7.49 ERA in his final seven starts before being sent back to Albuquerque.
Fruitless acquisitions: The Dodgers trade Blake DeWitt, James McDonald, Lucas May, Elisaul Pimentel, Brett Wallach, Kyle Smit and Andrew Lambo for Ted Lilly, Octavio Dotel, Ryan Theriot and Scott Podsednik – and then go 14-15 in August and 1-6 to start September.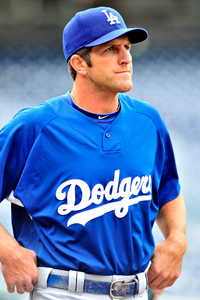 Ed Wolfstein/Icon SMI
The Dodgers are more than a hair out of the playoff chase.
Absent offense: The team's second-half OPS is .647. No Dodger with more than 50 plate appearances has an OPS over .750 since the All-Star break.
More injuries: Furcal and Martin succumb again in August, Martin for the season.
To shield themselves from these falling rocks, the Dodgers had the sustained excellence of Clayton Kershaw, Kuroda and Kuo, the comeback of Billingsley, the valuable off-the-bench contributions by Jamey Carroll, and occasional hot streaks by various other players from time to time, from Ramirez, Ethier, Furcal and even Kemp (in April) to Carlos Monasterios, Kenley Jansen, Ely, Padilla and Lilly. There was the nine-game winning streak in May. There was even a walkoff balk.
It wasn't enough, not nearly. The Dodgers didn't have the kind of protection they needed against so much pummeling. Too many expectations went unmet. In the starting lineup, you can't find a single player who didn't take a step back in performance and/or health.
Despite the McCourts, the Dodgers had a contender on paper. But that paper got shredded, much like Ronald Belisario's visa application.