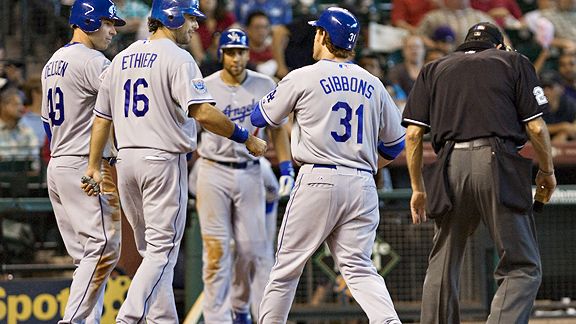 Steve Campbell/AP
Will Jay Gibbons be receiving congratulations from fellow Dodgers in 2011?
The stories of Jay Gibbons and Rod Barajas have interesting similarities - two Southern California high school grads, cast off by other teams, who have thrived in the dog days of the 2010 Dodger season.
They are also both free agents after the 2010 season. They'll go after the best deal they can get, just as the Dodgers will go after the best players they can get. But with Gibbons hitting his fifth Dodger home run – one more than Barajas – in the Dodgers' 7-4 loss at Houston today, it's starting to seem destined for the parties to come together for 2011.
Neither player is going to price themselves out of the Dodgers' budget, however limited that might be, so at a minimum, Gibbons and Barajas should have a spot carved out on next season's bench. Barajas' playing time depends rather specifically on what the Dodgers do with Russell Martin. The Dodgers' third-outfielder situation is murkier; I don't think the Dodgers are simply going to hand left field to Gibbons – especially with his defensive limitations – but he certainly looks like a guy who could get at least 250 or so plate appearances next year. The bar is not high.
By the way, as the Dodgers look for a third starting outfielder next season, don't rule out that it could be a center fielder, with Matt Kemp moving to right field and Andre Ethier to left.
* * *
Carlos Monasterios exchanged four outs for four runs (three earned) in his shortest outing as a Dodger starter. This season, though not without its highlights, has obviously been a learning experience for Monasterios. Though he'll certainly be somewhere in the Dodger organization next year after surviving an entire year in the majors as a Rule 5 draftee, I confess I have no idea of how much he'll contribute to the 2011 Dodgers.

John Lindsey got his first major-league hit – a sinking drive to left field while pinch-hitting in the fifth – and a bevy of congratulations, hugs and smiles in the dugout thereafter. Matt Kemp in particular was showing Lindsey the love.

In the fourth inning, James Loney ran his way out of his 40th double of the season by instead extending it into his second triple. No problem, because in his next at-bat, Loney got a two-bagger. He is the fifth Dodger since 1990 to reach 40 doubles.

Russ Mitchell is now 0 for 14 in his major-league career, but followed Loney's triple with what at the time was a game-tying sacrifice fly, after Gibbons' three-run homer.

In his first major-league start since Oct. 4, Chin-Lung Hu made a costly throwing error in the first inning on a potential double-play ball, but also made a couple of fine plays in the field. He was 0 for 4 with three strikeouts at the plate.

Purely subjective, but Ramon Troncoso seemed to have nothing at all going for him in his two-inning relief appearance today (five hits, one walk). His arm just seemed fried to me.