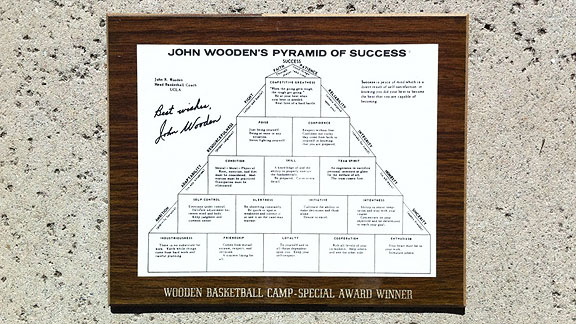 One Friday in the summer of 1977, I won an award named after the legend who was born 100 years ago today. The John Wooden Basketball Camp Special Award was given to one member of each of the camp's basketball teams who best exemplified the values of Wooden's Pyramid of Success.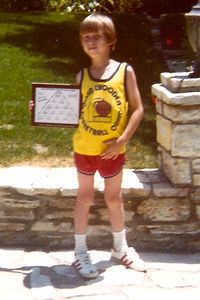 Future non-star.
I was 9 1/2 years old, heading into fifth grade, and had been dribbling a basketball (originally with two hands but more recently with one) for five years or more. But I had not made a lot of progress as far as putting the ball in the basket. I was almost unconscionably short, I'm guessing about 4-foot 4 or so, and that 10-foot hoop was still miles high in the sky. As far as playing the game, I was still trying to figure so many things out. And so that week on the campus of Cal Lutheran University in Thousand Oaks, I was quite possibly the least talented basketball player in that entire camp, or at least among them.
I think we played about five games in our little camp league that week, and our team's coach, whom I actually don't have any bad memories of, decided at about Game 2 that I should play safety. Yes, safety, and by that I mean, he came to the conclusion that offense was such a pointless endeavor for me that I was better off just being on defense. So he designated that I shouldn't cross the halfcourt line when our team had the ball. He played four-on-five, while I waited for the other team to bring the ball back my way. The game looked pretty interesting from the backcourt ...
And then, one time, an opposing player stole the ball. How I remember it, that kid racing (as much as 9-year-olds raced) down the left side of the outdoor court, parallel to some Cal Lutheran dormitories, with only me between him and the basket. I sped up to match him stride for stride. He drove in for his layup, and I leaped up next to him – we're talking four, five, six inches in the air at least – and tipped the ball away. Clean, pure, perfect. My first extraordinary moment on a basketball court.
Foul!
SKILL
"A knowledge of and the ability to properly execute the fundamentals." - John Wooden
You're saying I just need to do the fundamentals? That's it? Because I know the fundamentals better than that guy, but he's big and he can score and he's the one everyone wants on their team.The referee, some guy whom I'd guess was about 16, whistled me for a shooting foul. I was in utter disbelief. I cried out in protest, and was immediately warned not to argue. You didn't argue a call at John Wooden Basketball Camp. I shut my mouth, bitterly, crestfallen that my moment – my moment – had been taken away from me. I looked around, and I'm not sure anyone really believed that I had been robbed, because I'm not sure anyone believed I was capable of having a moment to rob.
My milli-spark of rebellion was an aberration, and it did not prevent me from receiving the Wooden Basketball Camp Special Award, the award praising me for my industriousness, cooperation, ambition and so forth. True, I wasn't showing much confidence or competitive greatness, but I meant well. I won it, and I accepted it, took a little pride in it, put it on a wall in my bedroom at home and kept it in a box through my adulthood.
There was no mistaking, then or now, that this award was a consolation prize. Practically a booby prize. It's not that it didn't mean something. It was a reward for not giving up. But why would I have given up? The implicit answer was that I as a basketball player, I was that bad.
There wasn't a person who received the John Wooden Basketball Camp Special Award who wouldn't have traded it on sight for just being a little better naturally at actually playing basketball.
* * *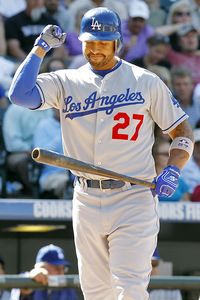 Ed Andrieski/AP
Matt Kemp slaps his bat after one of his 170 strikeouts in 2010.
The Dodgers' 2010 season was defined by two kinds of players: Jamey Carroll and Matt Kemp. Carroll, the overachiever who hustled. Kemp, the underachiever who ... well, we really don't know exactly what he was doing. And that's the reason for this story.
I am someone who has always had, almost without exception, what adults would call a good attitude toward work. Rarely in my life has my effort been questioned. This is true despite the fact that even before I became aware of it, it has been my goal to do more with less. I'm not a show-my-work guy. I just want it to be easy.
I'm practically a lifelong skier, for example, having taken my first lesson 35 years ago, when I was 7. To this day, I challenge myself, seeking out the hardest possible runs I can, but I don't do it for the sake of the work. I do it for the sake of the accomplishment. I want to glide, always glide. I want to be a natural.
But I was not a natural, never. Skiing is my best sport, but it has taken me all 35 years to get to the level of ability I'm at today. In my 20s, trying to impress myself and more importantly, trying to impress girls, I was OK, but I wasn't impressing anyone. I had to grind and grind away at it.
ALERTNESS
"Be observing constantly."
Me: I don't see the juice.
Wife: It's in the refrigerator.
Me: Where?
Wife: It's right in front of you!There's a widespread assumption that Kemp has had things too easy in his athletic life, and that this year he paid a price for it. I think that's probably both truth and fallacy there. Kemp has made athletics a daily part of his life for probably 20 years or more now, ultimately at a level of intensity that most of us can't relate to. The idea that Kemp hasn't worked to get to where he is today couldn't be more ignorant.
But Kemp undoubtedly, more than anyone sitting at a computer reading this piece, is a natural at sports – even at the game of baseball at which he can sometimes seem clunky. He was a basketball star in high school. He reached the professional level in his No. 2 sport at age 21. He got Gold Glove and Silver Slugger awards as presents for his 25th birthday. Generally, Kemp has probably found throughout his life that if he worked a certain amount, he would get better, and that any setbacks were temporary. You grow accustomed to that pace.
Relatively speaking, Kemp is a natural, and it's completely understandable that he would take pride in that. I know I would. Making it look easy? Come on. How could you not feel good about that? Of course you'd find self-worth in that.
Hustle is great, but not needing to hustle, not needing to make that extra, tear-yourself-up effort, not needing to be told what to do, that can be pretty spectacular. That is a rush and a half. Who wouldn't become addicted to it? And addictions are not something you easily shed overnight.
* * *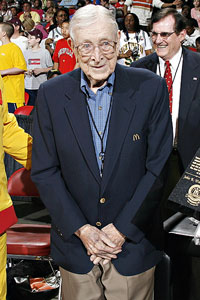 Joe Murphy/NBAE/Getty Images
Happy birthday, Mr. Wooden
OK, there have been times I have actually felt like a natural. Just a few. First-grade spelling: They didn't call me Speedy Gonzales because I could run fast. Math was never a problem in elementary school. And I could rock a Mattel Electronic Football game pretty hard. It was effortless, and it felt good.
CONDITION
"Mental - Moral - Physical."
Brain: Go faster
Legs: Why on earth for?Starting in seventh grade, it started to get incrementally harder. I still had my strengths, but nothing was automatic. And as I went into high school, a philosophy evolved. It took as much effort for me to get from an F (i.e., doing nothing) to a B+ or A- in an average class, as it did for me to get from an A- to an A. In other words, the cherry on top was half the effort. The A, though it seemed so close, was like the last 1,000 "Into Thin Air" feet of the climb to the top of Everest. That was the part where you could die trying.
And so sometimes, going for the A often seemed not worth the trouble. Other times, it wasn't by choice. I took to science like Kemp has taken to the tailing slider. After sailing along in math my whole life, calculus brought me to my knees. I made mistakes that I couldn't fathom, and I made mistakes that were just plain stupid.
I graduated from high school with a 3.5 or 3.6 grade-point average. I probably ranked about 40th out of 130 or so kids in the rather intense environment that was my senior class, better than some, worse than others. I had a lower GPA than my older brother or sister had (though who knows what my grade-point average on balls in play was).
I did have excellent SAT scores, but as the applications were going out, I was warned by our college counselor that I had the wrong combination of strengths. If your SAT scores were in a lower percentile than your GPA, that meant you made the extra effort to place above your station. You were a worker. You had character. High SATs and a lower GPA, however, meant you were lazy. Which, in my case, was not wholly true but partially so.
What did that make me? Did it make me a bad person, to be good but not great? That as hard as I tried, I consciously risked falling short of my goals because I couldn't or wouldn't make myself try harder? Should I be booed? Should I have my ethic questioned?
Ah, but it's different, right? There's no comparison between high school classes and major-league baseball. I wasn't getting paid, first thousands and then millions like Kemp (though I was getting paid, in a sense, by my parents' investment in my future). I was just a boy. Kemp is a man. I was in school; Kemp is a professional.
INITIATIVE
"Cultivate the ability to make decisions and think alone. Desire to excel."
Yes, the desire is there. Desire is not an issue.I'm going to argue that it's not so different. As much as your circumstances change, there is a core part of you that remains young and in the midst of development. I am 42 years old, but that's a chronological age. Or to put it another way, it's an average of all the ages I feel. Sure, there's some 42-year-old in me, but part of me still feels 9, and part of me feels about 75.
I approach life a certain way. I want to be better, and I'll grind at it, but there's a limit to what I'll do. I work very hard, I feel, but I can't emphasize that limit enough. And that limit can change on a weekly, daily, hourly basis. There always has and always will be a part of me that wants to do nothing more than smell the roses, whether those roses are Saturday morning cartoons as a kid or a nice long walk in the twilight as a grown-up. I like the work I do, but I don't like to work. I accept the process and can even enjoy the journey, but the result is a big part of my reward. I always want my life to be easier; I always want things to go right the first time.
And so that limit of how hard I'm willing to work is a moving target. I suspect that's true for many of us.
Knowing what to do is not the same as being able or willing to do it. It's a hard lesson to learn that the effort that you're comfortable with is not always enough. It's a lesson that might make you rebel. Matt Kemp and I can't be the only ones who wrestle with that. Being paid a lot of money might alter the personal battlefield, but it doesn't eliminate it.
* * *
While on his postseason vacation in Europe with Rihanna, a short break before his offseason workouts begin, Kemp's baseball mind is probably is at one of two places. He's thinking that he has overcome hurdles before, and so there's no reason to think he won't overcome them again. Or he's thinking that okay, that philosophy has worked in the past, but this time he really has to find another gear. He is going to have grind even harder than before, and that's what he's gonna show us next year.
Or he's thinking both of the above. He will have to grind, but he will succeed. Because he believes.
I don't know if it's one, the other or both. However, I don't imagine Kemp not caring about improving. There's too much for him to gain – more money, more glory, more victory – not to care.
But let's consider the alternative.
There is conflicting scuttlebutt about Kemp. You hear that he does work, very hard. You also hear that he's not a good listener, that when it comes to instruction or coaching, he's a mixed bag. People wonder where his head is at a given moment.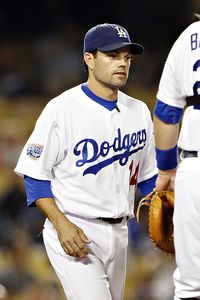 Alex Gallardo/AP
Mr. Inspiration, Jamey Carroll, is listed at 170 pounds, the lightest weight on the 2010 Dodger roster.These are not contradictory reports. Far from it. The beef with Kemp is with his mental game, but that grievance contains an implicit assumption that only a fool, or worse, a scumbag, would operate at less than full mental capacity. That oversimplifies things to a remarkable degree, practically the equivalent of hammering Jamey Carroll because he isn't bigger and stronger.
The mental game can be hard. For some, it can be unconquerable. The mental game is not a free throw. Carroll is better at it than Kemp, but Carroll is more than 10 years older than Kemp. Carroll didn't even break into the big leagues until he was two years older than Kemp (who has played in 626 games) is now. Carroll had to hustle more than most, had to think more than most, or he'd simply never have made it in the show, much less stuck around.
Kemp now has to step up his mental game to bounce back from a disappointing 2010 season. Anyone, including Kemp, can see this. But people think it's a matter of flipping a switch, and that's simply not true. You don't power the mental game by flipping a switch. You power it by being the hamster that grinds on the wheel all day long, all so that you might get one extra drop of water.
Everyone is asking the same thing of Kemp – to work twice as hard in order to become, instead of better than 99.9998 percent of the people in the world at his sport, better than 99.9999 percent.
Maybe that's disingenuous; maybe it's only fair to look at Kemp in the context of his peers, among whom he ranked poorly in 2010, at least by Fangraphs' estimation. The point is, everyone is expecting Kemp to be humble about a career that, until a few months ago, he has had every reason to take pride in. That might require more than an overnight adjustment. It might require trying harder, and then thinking you've got it, and then realizing you don't, and then having to search – sincerely search – for new levels within yourself that aren't immediately apparent.
Kemp, who has averaged more than 20 homers a year with a .285 batting average, who has had Gold Glove and Silver Slugger honors, two playoff appearances, a past income of more than $5 million and a guaranteed 2011 income of nearly $7 million, who came back and improved after disappointing finishes to his 2006 and 2008 seasons, is being told that's not enough, not nearly. He's being told that if he doesn't improve in 2011, he will be a great disappointment, and if there's any question about his effort, it will be nothing less than shameful.
LOYALTY
"To yourself and to all those dependent upon you."
No one sees a potential contradiction there?And here I sit, having worked hard to get where I am but with plenty farther I could go, having consciously and constantly holding myself back. Kemp is considered a mental misfit even though he's a grown man under constant instruction, while no one questions my dedication to writing even though all I'm subjected to is the occasional edit, and I haven't taken a writing class in 15 years. Kemp is sliced and diced for his Rihanna romance, even if the sincerity of it – no matter what the future holds – should no longer be in doubt, while I refuse any job that would require travel or night work that would take me away from my wife and kids, even if it would bring in more money, more glory, more victory.
If Kemp were to say to himself – and I personally don't think for a moment he is saying this to himself – "I have money, I have love, I have a good job and I have my health, and I have this all just by being who I already am, and even though I'm no longer the best, that's all I need," no one would think for a moment that this was a legitimate perspective, even though outside the world of competitive sports, it most certainly is. In sports, there's no greater sin than unrealized potential. And yet in life, in real life, letting some of your potential go at a certain point can actually be a gift to yourself and your loved ones.
* * *
But let's say you accept your flaws. You're humbled. You're trying to get better. You aren't getting there.
You don't necessarily decide when it's going to click.
In ninth-grade history, I had a teacher I was really struggling with. He had a very strong, upper-crust personality and was not afraid to mock you. I simply did not get him, and I felt that whatever I was learning — and I was learning something — I was learning despite him.
POISE
"Never fighting yourself."
Yeah, good luck with that.Tests in the class typically consisted of a short-answer portion (60 points) and then an essay (40 points). One time, mid-essay, I found myself in deep trouble. I had started with a thesis paragraph that I couldn't really support. I can't really recall what it was or why I went with it, although I guess it was basically the argument I thought the teacher would have made or what he wanted to see. But I just couldn't see it through.
I crossed out the paragraph and started over, arguing the opposite. (Hello, George Costanza.) I was running out of time but I whipped through it. It wasn't effortless – I had to think about what I was writing – but the thoughts did follow, one after another. Nevertheless, I didn't turn in the exam with any confidence.
When I got it back, my teacher had given me 45 points for the 40-point essay portion, and written the following words: "Weisman, I have challenged you, and you have come alive!"
THE BOSS
"More than being rich or famous or happy, I wanted to be great." - Bruce SpringsteenSounds hokey for sure, but you don't forget something like that. And not to go all "Dead Poets Society" on you, but I came to realize that the teacher – all 23 years old of him – had come to this class at the start of the school year and found many of us in a stupor before it had even started, and he was trying to shake us out of it. He wasn't trying to impose himself on us. He was trying to draw something out of us. That's not something that you necessarily can understand right away. Arguably, it could be even harder to realize when you're older. I know, despite my best intentions, I don't love criticism, however constructive.
This moment in ninth grade was a turning point for my life as a writer, as a thinker and as a doer, but there was no straight path to it. I needed to get somewhere, and I got to it, but it couldn't have been more roundabout. It involved a clash and reconciliation of determined instruction with determined independence. It involved a personal evolution on its own timetable that no one could control. Though it was largely a mental issue, it wasn't an issue of effort or desire or choice. Not by themselves, anyway.
And all this leads to is the next challenge, and the next. For a decade in my 20s and 30s, I would pursue the goal of writing for primetime shows and fall short. Today, I have several different paths I pursue, but I'm honestly not sure where I should channel all my energies. Sometimes, I think I'm doing my best; other times I'm not so sure. There is still doubt. Which one of me is right?
* * *
I imagine two types of reactions to this piece. (Maybe more, but these two will be among them.)
1) Yeah, you make some good (if long-winded) points.
2) What kind of pathetic apology for mediocrity is this?
Let me reiterate that I don't believe that Kemp is actively choosing mediocrity. Nor am I trying to suggest that mediocrity is a worthy end, in and of itself.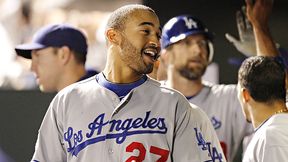 Barry Gutierrez/AP
Kemp smiles after teammate Casey Blake's solo homer in the ninth inning September 28.I am asking people to understand that stepping up one's effort is a process, and it's not an easy process. There really is no such thing as an overnight success. Asking more of yourself than you're used to giving is — in and of itself — a challenge. More than a challenge, it's a mystery.
There's always a limit. There's always something that holds us back, some level of relaxation we preserve for ourselves, whether it's money, pleasure, sleep, blissful ignorance or what have you. And the questions, for Kemp or anyone else, are twofold: Where do you want to be on that scale, and how much control you have over that desire?
In the coming year, we'll see what Kemp is made of at age 26. We'll see how much he steps up his mental game. It's silly to assume that he won't develop at all, but if he doesn't develop as much as people like me hope, there are all kinds of reasons why. They're not excuses. They're reasons.
COMPETITIVE GREATNESS
"Be at your best when your best is needed."
Define "best."None of us know how Kemp will respond to the challenge. I'm not sure Kemp even knows. Plus, his performance in 2011 won't necessarily be an accurate reflection of his work ethic. He could coast, and improve based on just natural development. He could bust his butt, and slide farther back. People will cheer if he does well, boo if he does poorly, draw conclusions based on whatever they see fit.
As I approach the 4,000-word mark on this essay, I guess all I'm really trying to say about turning on hustle and smarts is this: Living up to the standard that John Wooden set ... it's just not that simple.