* * *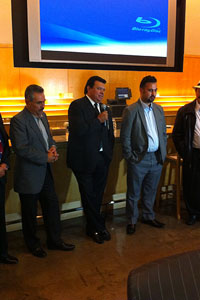 Fernando Valenzuela with Cruz Angeles (right)OK, I'm just going to get this out of the way right now: Fernando smiled at me. I mean, he charmed the living daylights out of me.
Forgive me for acting like a lovestruck teen (or twentysomething, or thirtysomething ... I've been through it all), but I mean, it was that nice a smile.
I wasn't expecting it. I attended Thursday's premiere screening of "Fernando Nation," the ESPN "30 for 30" documentary directed by Cruz Angeles that will debut on the small screen Tuesday. Valenzuela was the guest of honor. After the screening, during the Q-and-A, I asked a question of the director that I really wanted to ask Valenzuela — in fact, part of the reason I asked was the hope that Valenzuela might step in and answer it. And he did.
The question related to how Valenzuela had handled the crush of attention that came during his rookie season and how he kept it from overwhelming him. Angeles first said he believes that Valenzuela's family taught him the discipline to handle the challenge. Then, Valenzuela was handed the microphone. Here's part of his response:
"I think when I decided to play this game, I knew a lot of things were going to happen," Valenzuela said. "My first year with the Dodgers was the hardest year for me. I wanted to practice with the team; I wanted to be with the team. I wanted to just enjoy the game. ... (But) I had it in my head that's part of the game. I tried to do my best; I tried to take care of everyone.
"Also, I liked that year. That happens only once in life. It happened to me in '81. I enjoyed it."
As he answered, looking at me as he spoke, that was when that big smile came across his face. It didn't have anything to do with me, it was just him enjoying the memory, or the moment of talking about the memory. But it really, really made me happy.
I don't suspect I'm explaining this adequately. But I'm never going to forget that smile.
I'll have more about the documentary in a separate post.